Cahill thinking ahead
Chelsea new-boy Gary Cahill hopes his move will further underline his place in Fabio Capello's England plans ahead of Euro 2012.
Last Updated: 17/01/12 11:38pm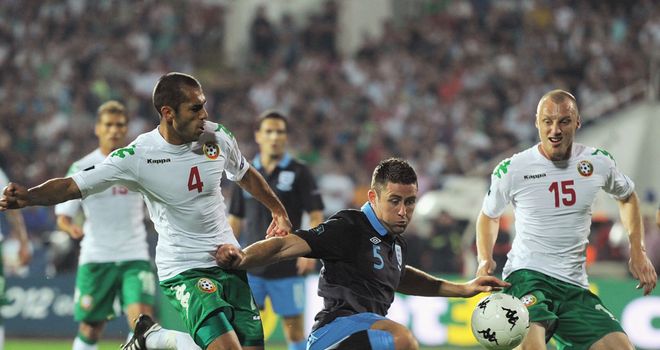 Chelsea new-boy Gary Cahill hopes his move to Stamford Bridge will further underline his place in Fabio Capello's England plans ahead of Euro 2012.
The 26-year-old defender trained with the Blues for the first time on Tuesday morning after finally completing his £7million transfer from Bolton.
Cahill has already struck up an understanding with new Chelsea team-mates John Terry and Ashley Cole on the international stage.
And he was certain playing alongside them at club level would boost not only his chances of sealing a place in the England side, but also the country's hopes of a successful summer.
"I am sure that the England manager is happy that there is a possibility we could be playing together, but you have to be respectful of the fact that I have to earn my position in this team by working hard in training," Cahill told Chelsea TV.
"Coming to a club like Chelsea, there are top-class, international players all the way through the squad so there is going to be strong competition and it is not going to be easy. I just hope when I get my chance I take it.
Fantastic
"Obviously playing with the English boys here will help our understanding.
"But I am taking nothing for granted. I am coming here to work hard and try to get in the team first of all."
Cahill, who has seven caps, hailed Terry for helping him settle into international football.
"It was fantastic to make my first appearance for England playing alongside someone as experienced as John Terry is and as good as John Terry is," he said.
"It made my job a lot easier and I have played a few times with him now and it has been fantastic.
"We only meet up every now and then with England, but it was nice that there are faces here that I know and have spoken to before.
Wrangling
"I knew Daniel (Sturridge) a little bit before he came to Bolton (on loan last season), so when he came there, I got to know him a lot more and I am good friends with him now."
Cahill joined Chelsea after more than a fortnight of wrangling over the player's personal terms.
Reports suggested the player had demanded £100,000-per-week, £30,000 more than the Blues were willing to pay, with the parties eventually shaking hands on a compromise figure of £80,000.
Cahill said: "It was a little bit disappointing when everything is out in the press. The stories that I read, I didn't read one that was true.
"Most people will tell you it is hard when you stand on the outside and you have things written about you that aren't very nice, but you have to bite your lip, because you want to say, 'No, this is the situation, this is what is happening'.
Cahill added of Chelsea manager Andre Villas-Boas: "He has been fantastic. When I did speak to the manager, the impression he had on me was massive.
"Like I said, it is always nice to be wanted by the manager, it gives you confidence when you are coming to a new club and I look forward to working under him, that is for sure."
Sky Sports customers can now receive their first three months half-price when joining Chelsea TV. Click here for more information.