Lescott plays down Spurs threat
Joleon Lescott says Man City do not see Spurs as a major title threat and are more concerned with keeping their city rivals at bay.
Last Updated: 18/01/12 1:27pm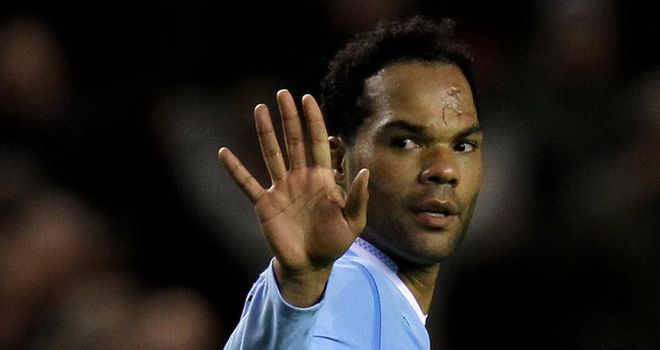 Manchester City defender Joleon Lescott says his side do not see Tottenham as a major title threat and are more concerned with keeping their city rivals at bay.
Spurs missed a chance to temporarily pull level with Premier League leaders City when they could only manage a draw at home to Wolves at the weekend.
Harry Redknapp's third-placed side take on the Blues at Etihad Stadium on Sunday knowing defeat would leave them eight points adrift of the summit.
Competition
England stopper Lescott believes second-placed neighbours Manchester United are City's biggest competition for the trophy and says the Blues are choosing to focus on them rather than Spurs.
"We know if we win on Sunday it would open up a gap between us and them," he said.
"But no disrespect to Spurs, our main rivals are Manchester United. They are second in the league and our focus should always be on the team immediately behind us.
"As much as the points on Sunday are vital because of the gap to Spurs, they will be more important to pull away from Manchester United."
Lescott feels City were provided with conclusive proof of their arrival at the Premier League's top-table by all the talk of a crisis within the Blues camp.
After storming ahead in the first third of the season, Lescott found it amusing that Monday night's trip to Wigan was being billed as the acid test of City's title credentials.
Never mind that their two successive defeats had come in cup competitions, nor that three reverses in five games also included a last-gasp defeat at Sunderland when they had dominated throughout.
It was also overlooked that a two-month wait for an away win came during a spell that included trips to Liverpool and Chelsea.
Arrived
"It has been funny," said Lescott. "None of the boys thought we were cracking or something was going wrong. Then suddenly a big thing is made of it in the media.
"It was crazy. We sat there and thought: 'Wow, we must have arrived'.
"People were saying we weren't going to win the league and we are thinking: 'Hold on a minute, we have lost two cup games'.
"I don't think we are doing too badly."