Scholes ready for title fight
Paul Scholes is confident Man Utd will hold their nerve during the run-in and overhaul Man City to finish top of the Premier League.
Last Updated: 23/01/12 5:11pm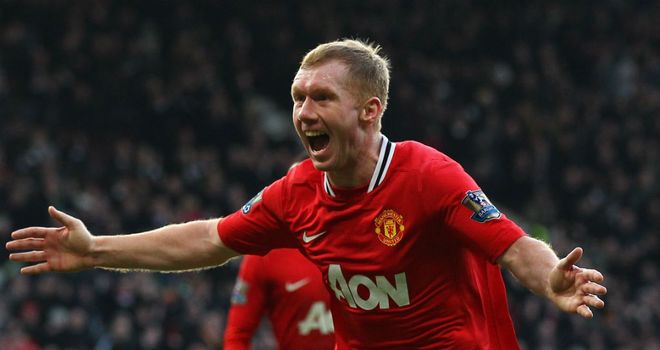 Paul Scholes is confident Manchester United will hold their nerve during the run-in and overhaul Manchester City to finish top of the Premier League.
Scholes was tempted out of retirement earlier this month after apparently hanging up his boots at the end of last season, and made an instant impact with a goal in the recent victory over Bolton.
The midfielder stepped off the substitutes' bench on Sunday as United beat Arsenal 2-1 at Emirates Stadium to keep up the pressure in the title race.
It was important for the Red Devils to win after Manchester City's dramatic 3-2 success at home to Tottenham had briefly extended their advantage to six points.
"I don't think I've had too big an effect," Scholes told Sky Sports News.
"Obviously both teams won so we are still where we were.
"I think we had the tougher game because it is always more difficult to go away, and we've got the three points.
"There's still three months of the season to go and hopefully we'll be in the right place when the time comes."
Mental adjustment
Scholes recognises that United must concentrate on their own game and cannot afford to get distracted by thinking about City.
Asked if he was confident of clinching a 20th league title, Scholes added: "We hope so. That is the plan.
"Obviously City are going well at the minute but we are only three points behind and funny things can happen towards the end of the season.
"We just have to make sure we look after ourselves and get the right results."
Scholes insists it has not been too hard for him to get back into the groove of playing for United, although switching his mind on to the task at hand was a challenge.
"I think you have to adjust mentally," he explained. "It does take a bit of getting used to but the advantage I'd had was that I'd been at the club for the last four or five months doing a bit of coaching.
"I'd obviously seen the lads every day so it wasn't too difficult to settle back in."