Scholes not ruling out England
Paul Scholes has appeared to leave the door open to a return to international football after making a shock comeback for Man Utd.
Last Updated: 24/01/12 11:16am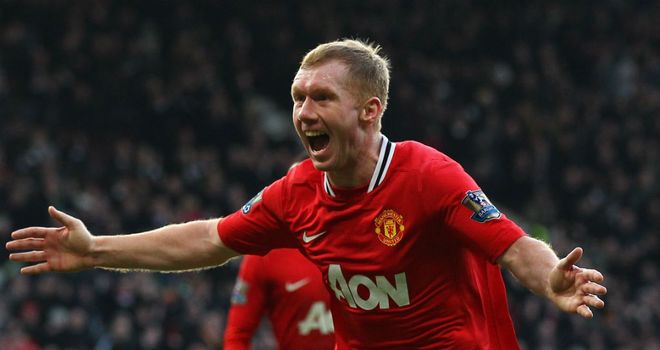 Paul Scholes has appeared to leave the door open to a return to international football after admitting he was tempted to answer Fabio Capello's call for him to play at the last World Cup.
Scholes hung up his boots at the end of last season but came out of retirement earlier this month to make a shock comeback for Manchester United.
He has performed well in his first few games back after Sir Alex Ferguson insisted there were 'no negatives' to bringing in somebody with such a proven record.
The 37-year-old midfielder has not played for his country since 2004 despite managers regularly pleading for him to reconsider.
Scholes came close to reversing his decision when Capello picked his squad for the World Cup in South Africa, and speculation has again suggested he may be contacted ahead of this summer's European Championship.
"I like being at home, but I was tempted," Scholes said in the Daily Express about the chance to play for England in 2010.
"Every hour I changed my mind. But in the end the thought of being away for six weeks made up my mind. I just don't enjoy being away from home for long periods.
"That was why I stopped in the first place, after the Euro 2004 finals. Plus the fact that I didn't feel I was playing very well.
"People said it was because I didn't like being played on the left, but that wasn't the case. I'd played on the left for United and scored a lot of goals one season from there."
Ferguson fear
Scholes, however, has not ruled out playing at Euro 2012, adding. "Who knows?"
Despite being such an experienced professional, Scholes admits he still had a feeling of trepidation when he approached Sir Alex Ferguson about possibly coming back to United.
"After two months' training with the youth team I felt I could still play," said Scholes, speaking at a Football Writers' Association tribute in London to honour him and Gary Neville.
"I ended up playing in some practice games and was getting fitter and fitter, so I went to see the manager.
"How did I feel? Scared. I wasn't sure what sort of reaction I would get. I told the boss I wanted to play again, not necessarily for United - just play again.
"He was brilliant. After that, telling my team-mates or actually going back out on the pitch was never a problem."