Ream unfazed by comparisons
New-boy Tim Ream knows comparisons with Gary Cahill are inevitable but has vowed to put his own stamp on Bolton's backline.
Last Updated: 27/01/12 3:24pm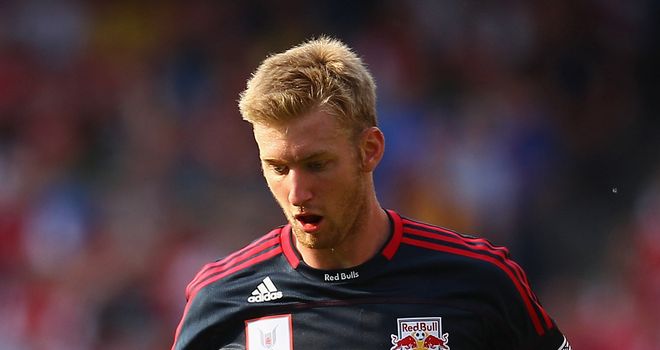 Bolton new-boy Tim Ream knows comparisons with Gary Cahill are inevitable but has vowed to put his own stamp on Owen Coyle's backline.
Ream's move to the Premier League from New York Red Bulls was wrapped up on Thursday after the United States international defender was granted a work permit, with the 24-year-old signing for an undisclosed fee on a three-and-a-half-year contract.
Cahill's switch to Chelsea was finally completed last week, leaving big boots to fill after an impressive four-year spell at the Reebok Stadium that saw the central defender establish himself in the England squad.
Comparisons
Ream said: "Whenever you sell a player and bring another player in of the same position, you're going to have that comparison. People are going to say, 'he's not this, he doesn't do this as well as Gary', but you've just got to take it and roll with it.
"Everybody's their own player so I just have to do what I'm good at and hopefully everybody will like me."
Ream will have to wait for his debut as he must return to the States to tie up the last of the paperwork.
That is almost certain to mean he will be unavailable not just for Saturday's FA Cup clash with Swansea but also Wednesday's Premier League meeting with Arsenal and his former Red Bulls team-mate Thierry Henry.
"I'm hoping to be back either late Wednesday night or early Thursday and hopefully be available for the following weekend (against Norwich)," said Ream.
"When all this started really getting serious and we were looking at time-frames I was looking at the Arsenal game and thinking how incredible it would be to go up against Thierry."
Ream has been hugely impressed by the Frenchman's talents, and he added: "I don't think his qualities will ever diminish no matter how old he is, which is scary to say. He is unbelievable."
While Henry could be involved in the UEFA Champions League during his loan spell with Arsenal, Ream finds himself mired in a battle to avoid relegation from the Premier League.
But the defender was impressed by his new team's performance in last weekend's 3-1 win over Liverpool and hopes his experience of playing the likes of Manchester United, Manchester City, Arsenal and Tottenham with Red Bulls will stand him in good stead.
Challenge
"It was a great game," said Ream of the Liverpool win. "All the guys put in a great shift. If everybody can do that the rest of the year then we'll have no problems staying up.
"I think I'm still probably a week away but I've been here for a couple of weeks training hard and, with the games I've played against Premier League teams, I think I have a pretty good feel.
"It's a huge challenge, the pace is quicker and it's more physical, there's quality players all over the field. It's a challenge but it's something that I'm ready for."