Lambert welcomes back Vaughan
Paul Lambert is set to welcome back striker James Vaughan as he prepares to rotate his Norwich squad in the FA Cup.
Last Updated: 27/01/12 4:27pm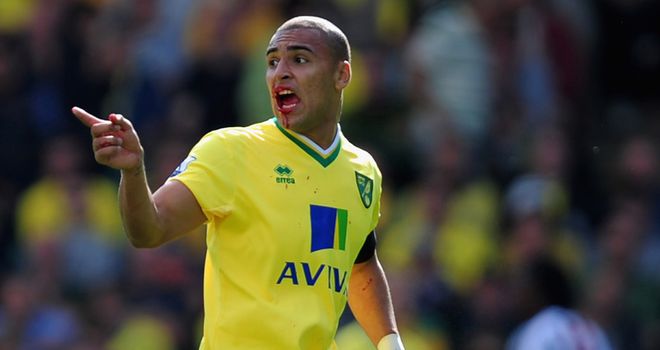 Paul Lambert is set to welcome back striker James Vaughan as he prepares to rotate his Norwich squad in the FA Cup.
The Canaries boss will use Saturday's fourth round encounter at West Brom as an opportunity to rest some of the players who have starred in the club's Premier League campaign.
That brings a chance for Vaughan, who made a goalscoring return for the reserves in midweek, after being sidelined for four months with a knee injury.
Fellow long-term injury victim Elliott Ward is also on the comeback trail - another positive for Lambert as he looks to capitalise on an impressive first half of the season.
"We'll mix it up a little bit," said Lambert. "Some lads might need a break, they've been going week in and week out for us.
"I still think we have a side to go and win. I don't have any problem with changing the side. I have a group of lads who can adapt to it.
"I don't view any team I put out as being weaker. I've got great trust in the lads I play. We want to get through. We don't want a replay. We want to get the game finished tomorrow whether we win or lose."
The strike pair of Grant Holt and Steve Morison have been a revelation for Norwich this season but the pace of Vaughan will provide a welcome alternative option for Lambert.
Big asset
"A fully-fit James Vaughan will be a handful for anybody," he added. "He has a good pedigree. He's an aggressive lad and probably his over-enthusiasm has caused him injuries. Get him fit and he'll be a big asset to us.
"In Wardy's case he was a huge part in getting the club where it is today. Hopefully the two of them are now ready to push.
"Wardy was excellent for me last year. He has missed most of this season and when he is fully fit I have four really good centre halves trying to get two places. That's what I need.
"They have battled through the frustration of being injured and now they are back in the group but I don't think they have ever felt out of it. No-one has isolated them. We have kept them involved with things.
"I couldn't throw them in (from the start). Not at the minute. They played part of the (reserve) game the other night but it would be unfair to throw them in to the intensity of the Premier League."
It would appear Vaughan's return will not open the way for Holt to exit the club in the January transfer window.
When asked if he would listen to bids for leading scorer Holt, Lambert said: "Do you think I'd let him go?
"There's no point, if somebody comes in and says here's £100m for somebody then you just might look at it but there's no way on this earth you'd let anybody go.
"Same as any other team, they don't want to let their best players go."