Agger urges Reds to keep it up
Daniel Agger has challenged Liverpool to keep their winning momentum when they face Wolves in the Premier League.
Last Updated: 29/01/12 10:57am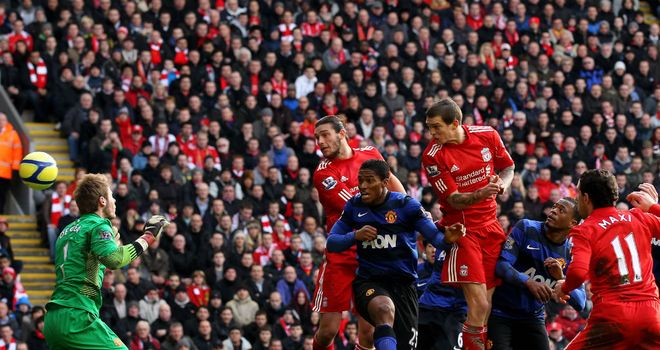 Daniel Agger has challenged Liverpool to maintain their winning momentum from the cup competitions when they face Wolves in the Premier League.
The Merseyside outfit enjoyed a memorable week as they earned a place in the Carling Cup final with a win over Manchester City, and then defeated Manchester United in the FA Cup three days later.
Agger scored the opener against United which gave his side the platform for the 2-1 win at Anfield in a barnstorming cup tie.
Liverpool will now travel to Wolves on Tuesday as they turn their attentions back to the Premier League, but the stylish Danish defender wants them to maintain their winning run.
Confidence
Their victory against United has given them more confidence as they go into the second half of the season in search of a top-four place.
"We defended well and they didn't really have that many chances. They had a lot of possession, but not a lot of chances," Agger told Liverpoolfc.tv.
"We did well. United are a tough team to play against with good footballers. I don't think you can talk about who deserved to win because it's football and anything can happen.
"It's been the perfect week for Liverpool in the cups, definitely. We got what we wanted."
He added: "We always take confidence going forward when we win, but to win in the cup and get through to the next round gives you more confidence.
"It's an important game at Wolves. We want to get further up the table. It's not good enough where we are now, so we need the three points."