Owen backs De Gea to shine
Michael Owen has launched a vociferous defence of under-pressure Manchester United goalkeeper David De Gea.
Last Updated: 29/01/12 1:24pm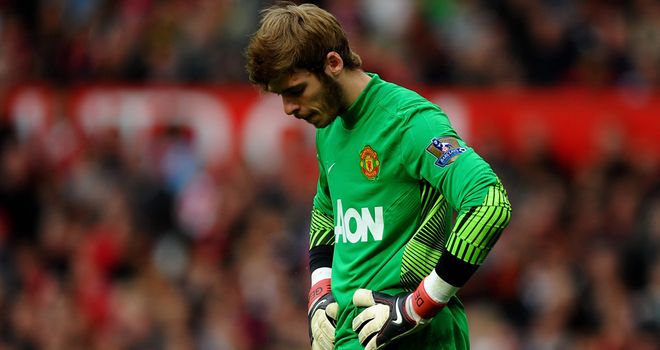 Michael Owen has launched a vociferous defence of under-pressure Manchester United goalkeeper David De Gea.
The 21-year-old was peppered with criticism from various pundits within the game for the two goals which saw Liverpool triumph 2-1 in the FA Cup fourth round at Anfield on Saturday.
De Gea joined the Premier League champions last summer for a fee of around £18million, however, he has struggled for consistency and has recently been left out in favour of Anders Lindegaard.
Yet for Owen, the young keeper has all the attributes to succeed at Old Trafford, and is convinced he will prove to all the fans and media questioning his ability that he is a fine investment.
"One comment on yesterday's game. Don't agree with all this negativity towards De Gea," Owen wrote on his Twitter account.
Labelled
"Admittedly he has made a couple of mistakes this season but listening to some people you would think he had a nightmare yesterday.
"I'm not having either goal was his fault. The problem is, once you get labelled, mud sticks and now any tiny mistake is magnified. Other keepers make similar mistakes and nothing gets said.
"The ball was on the 6 yard box for the first goal. He has to go for it. He also needs to watch the flight of the ball.
"There are then 6 players in front of him. There is nothing he could do. The free header was the problem, not the keeper.
"He couldn't do much with the second goal either. Is the problem not just a case of us not winning the first ball and not picking up a runner?
"In my opinion two bad goals to give away but to blame everything on the keeper is totally wrong. The lad will be a top keeper, he is only young. Harsh to blame him for everything."
Confidence
The former England striker's time at Old Trafford has been hit by injury, but it has given him an opportunity to watch most of their games from close quarters.
And from his vantage point, once De Gea's confidence is restored, he will justify his transfer fee and Sir Alex Ferguson's staunch belief in his talents.
"Must say, as you will be quick to remind me, I've watched a lot of home games this season! The support from behind both goals for him has been brilliant," he added.
"The fans know he needs their support, his confidence needs boosting. I'm sure he will repay that support for years to come."
He continued: "Apart from that, well done to Liverpool. We will dust ourselves down and go full steam ahead for the league."