McPhail boosted by final bonus
Cardiff midfielder Stephen McPhail is walking ten feet tall after helping the club get to Wembley once again.
Last Updated: 29/01/12 5:20pm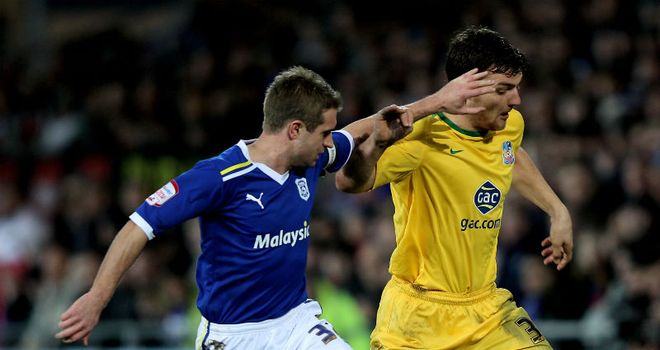 Cardiff midfielder Stephen McPhail is walking ten feet tall after helping the club get to Wembley once again.
The Bluebirds beat Crystal Palace on penalties last Tuesday to set up a mouth-watering Carling Cup final clash with Liverpool on 26th February.
The Wembley showpiece is McPhail's fourth in four years after he captained Cardiff in their FA Cup semi-final and final appearances in 2008, as well as featuring in the 2010 Championship play-off final.
It is an added bonus after he feared his career was over last summer following a successful fight against lymph node cancer two years ago.
Never imagined
He told the Daily Star Sunday: "I never imagined I'd get a chance like this again - especially when I met a number of specialists last summer who told me I might have to retire.
"That was so hard to deal with because football is all I have ever known since I was a kid. But once I got over the shock, I asked what the possibility was of continuing my career and once I realised that with the right medication I could get by with a certain amount of training, I was prepared to give it a go.
"I have joint problems as a result of the syndrome and there have been times when I have felt fairly ill and have needed to take two weeks away from training to allow my immune system to build itself up again.
"With all this going on, the manager (Malky Mackay) has been absolutely top-class. He's like a friend to me - reassuring me that I am part of his plans and that looking after my health is the most important thing of all.
"So, I've had my ups and downs - but last Tuesday was just a massive up. To get to Wembley again is amazing.
"And to be handed the armband for the semi just made me feel ten-feet tall."
No pushovers
McPhail does not think Cardiff will be pushovers in next month's final, adding: "We are a stronger bunch than we were last season.
"There is a bit more of a work ethic about us too and we'll need that against Liverpool because they are top class.
"We are simply going to have to come up with a brilliant game plan and then trust ourselves to carry it out. Liverpool are justifiably big favourites but we have overcome setbacks before."