Whyte defends Jelavic sale
Chairman Craig Whyte has defended Rangers' record in the transfer market since he took control of the club in May 2011.
Last Updated: 31/01/12 6:11pm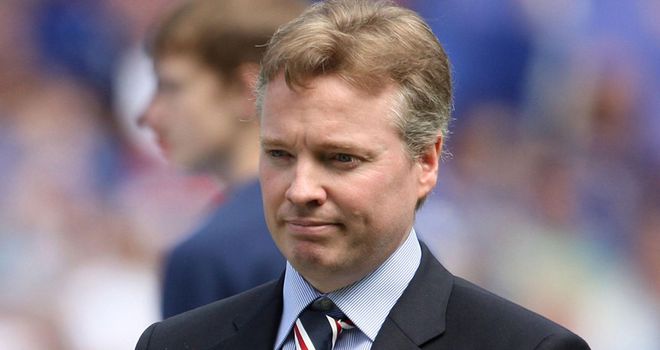 Chairman Craig Whyte has defended Rangers' record in the transfer market since he took control of the club in May 2011.
Whyte has come in for criticism for agreeing to let top goalscorer Nikica Jelavic join Everton, but he insists the move will be good business for the club.
Jelavic joined Rangers in August 2010 for £4million, and the deal taking him to Everton is reported to be around £5million.
The timing of the striker's departure could also cause problems for the Glasgow club, as manager Ally McCoist will have only a matter of hours to sign a replacement.
Whyte, though, insists that he had no choice but to accept the bid for Jelavic.
"One, the player wanted to leave and there is no point in trying to keep a player who no longer wants to be at Ibrox," he said in an open letter to supports on the clubs official website.
"Two, the club is simply not in a financial position to turn down offers for players which give the club a good return on its original investment."
Whyte, who pledged a £25million boost to the playing budget over five years before taking control, added: "In the summer transfer window last year we conducted 14 different pieces of transfer business, more than any other club in Scotland.
"This included new signings and improvement to existing contracts with key players, increasing the players' wage bill significantly. We now have a first team squad of 30 which includes 18 full internationals.
Far from ideal
"Admittedly, there were transfer targets we did not secure but that is not uncommon. As chairman, I have supported Ally McCoist in his choice of targets and will continue to do so.
"The timing of Jelavic's departure so late in this window is far from ideal and efforts to improve the squad will continue until the transfer window closes.
"That said, we must be realistic. Media coverage of the transfer window has bordered on the hysterical.
"As it stands at the moment Rangers has operating costs of approximately £45million a year and revenues of around £35million - not including revenue from possible Champions' League and Europa League participation.
"As we know, European money cannot be taken for granted and it doesn't take much to work out that without it there is a big financial hole to fill every year - regardless of who owns the club.
"I've said many times that in Scottish football we have to move on from this mind-set that you have to keep spending more and more money - that's what got this club into financial trouble before. We have to live within our means, continue to develop talent and spend wisely."