Cole sets sights on Games
Joe Cole hopes to represent GB at this summer's Olympics after being contacted over his potential availability.
By Patrick Haond
Last Updated: 02/02/12 1:35pm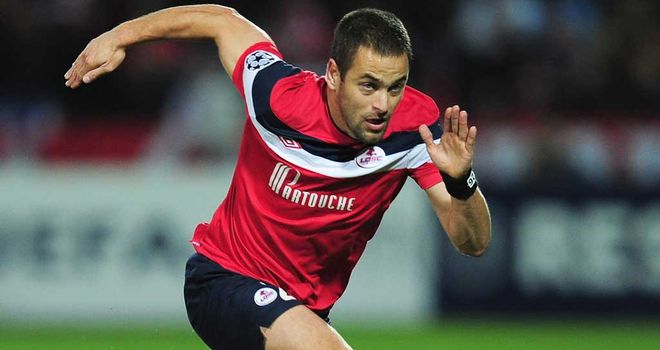 On-loan Lille midfielder Joe Cole is hoping to represent Great Britain at this summer's London Olympics Games after being contacted over his potential availability.
The Liverpool man has 56 caps for England but has not featured for Fabio Capello's side since their defeat to Germany at the 2010 World Cup.
However, the 30-year-old has been contacted over whether he will be available to feature for a British side in the capital this summer.
Target
The majority of coach Stuart Pearce's squad must be made up of Under-23s, but he can select three over-age players.
Cole is hoping to fill one of those spots after tying down a regular first-team place on loan at Lille this season.
"They sent us a letter to find out if I would be available. I said I will," Cole told L'Equipe. "We will see. If I'm in good form, if I play well, I will have an opportunity to go."
Despite his England exile, Cole is determined to win back a place in Capello's set-up and has his eye on their friendly with Holland at Wembley later this month.
"It has been a long time now since I played in the national team, so I don't know if it would happen again," he said.
"Obviously Fabio Capello's current preference is to play younger players.
"I have 56 caps and I have been playing in national teams since I was 15 years old. Now that I'm not part of it anymore, I want it even more.
"If I was called on, I would be so happy to wear that shirt again. There is a friendly in February and I still have an eye on it, just in case."
Cole is enjoying life in Lille, with the club having recently returned from their winter break - a fixture the midfielder feels English players pay the price for not having.
Failures
He has echoed suggestions the intense nature of the Premier League has played a part in England's recent failures at major tournaments.
"A footballer is always playing with some little physical problems, and having 10 days to recover allows you to be back fresh," he said.
"I believe it is one of the reasons why England didn't win any of the last great international tournaments.
"I am speaking with my experience. When you arrive in those tournaments, you are sometimes tired. The season is long and the Premier League is very physical."