Pizarro reveals Juve snub
David Pizarro has revealed the prospect of playing under Roberto Mancini again was enough to turn down Juventus.
Last Updated: 03/02/12 5:02pm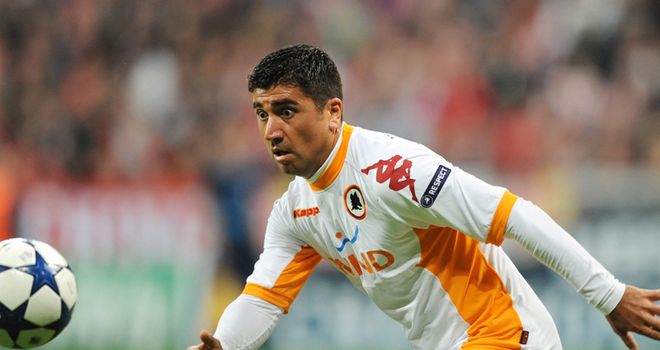 New Manchester City loanee David Pizarro has revealed the prospect of playing under Roberto Mancini again was enough to turn down Juventus.
City looked set to let the transfer window pass without making a new signing until landing the Chilean midfielder on deadline day.
Despite interest from elsewhere, the 32-year-old signed on loan from Roma until the end of the season.
Pizarro played under Mancini at Inter Milan during the 2005/06 season, winning the Serie A title, and the chance to team up again with Mancini at City was too good to turn down.
"It was a surprise for me because it was done pretty quickly," he said. "Of course, Mr Mancini played a big part in this.
"I already had quite an advanced agreement with Juventus but when they told me about Manchester City's concrete interest, I liked the idea more.
Leadership
"I have worked with him already. I think his personality and his leadership are the main strengths.
"I remember when he arrived at Inter Milan. They hadn't won for so many years but with his input we stabilised and from then on Inter went on to trophies."
City have endured a similar wait, but their bid to win a first league title since 1968 has been hampered by a shortage of midfield options recently, with Yaya Toure away at the African Cup of Nations and Owen Hargreaves not fit enough to be a regular starter.
But despite featuring in just seven games for Roma this season, Pizarro insists he can come straight into the fray.
"I feel ready," he said. "The fact Man City are trying to win the league is something I like a lot.
"I know it is a different league and the referees tend to see the game differently, so I know it is 90 minutes full on.
Experience
"I am sure that my years playing at the highest level in Italy and in European competitions will give me enough experience to be able to contribute.
"It is a moment where it is important for Manchester City so I need to adapt very quickly, but I think I have got the experience to do that."
Mancini admires Pizarro for his versatility but the former Udinese man made it clear where he prefers to play.
He added: "I have been playing for 12 years as a playmaker, so I think this is my best position, where I get most satisfaction as a player."