Fergie has faith in De Gea
Sir Alex Ferguson has paid tribute to the 'great talent' of David de Gea and insisted nobody will remember his current difficulties in two or three years.
Last Updated: 03/02/12 11:14pm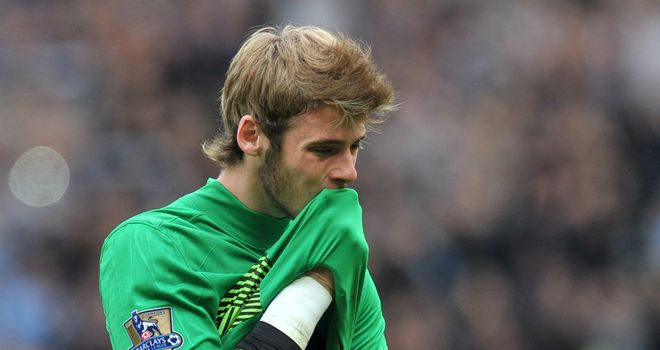 Sir Alex Ferguson has paid tribute to the 'great talent' of David de Gea and insisted nobody will remember the goalkeeper's current difficulties in two or three years.
Ferguson has a dilemma over who should line up between the posts for Sunday's crucial Premier League visit to Chelsea as Anders Lindegaard has been ruled out for up to six weeks with ankle ligament damage.
Rookie Ben Amos kept a clean sheet against Stoke in midweek when De Gea was absent because of a minor injury, but the Spaniard is in contention to regain his place.
The trip to Chelsea comes just eight days after a difficult afternoon at Liverpool, where De Gea's performance was picked apart by the critics and blamed as one of the major reasons why Manchester United crashed out of the FA Cup.
Whilst Ferguson accepts his £18million summer arrival from Atletico Madrid has had a few teething troubles, he also feels De Gea has the potential to ensure any problems are just short term.
"The boy has got a great talent," said Ferguson.
"He has made two or three mistakes but it two or three years' time we won't be discussing that at all because he will have matured.
"Then he will be realising his potential."
Exaggerated
In the immediate aftermath of last weekend's defeat, Ferguson blamed his defenders for crowding De Gea, not allowing him out to challenge for a cross Daniel Agger headed home unchallenged.
The Scot now concedes a more experienced keeper would have done something about it, revealing that De Gea is bulking up in a bid to cope with the more physical demands of the Premier League.
However, he also believes errors are being magnified purely because of the club he plays for and the illustrious names he is being asked to follow.
"When you make a mistake at United, it is highlighted and can be exaggerated a little bit," Ferguson explained.
"They are mistakes and he wants to address it himself. He will do through maturity and the understanding of the English game.
"It is harder when you are replacing Edwin van der Sar and Peter Schmeichel. They are probably two of the greatest goalkeepers in European football over the last 40 years.
"That is not easy. I found it difficult to replace them.
"That's why we went for a young replacement, who would develop and mature into the position because the potential is there."
Freshness
United are looking for their first league success at Stamford Bridge since 2002.
They will do so with a fresher looking squad, including Ashley Young, who has missed eight matches with a knee injury, and Tom Cleverley, who has featured only twice since the beginning of September due to foot and ankle problems.
"There is no doubt freshness will help," said Ferguson.
"When Ashley got his injury at Fulham it was just at a point when his game was starting to shade a little bit.
"His early form was fantastic and we were really pleased with him but there were just a couple of games when it looked as if we were ready to give him a break.
"It turned out to be an enforced one but he is fresh now and his training performances the last two weeks have been really good."
It is a measure of the impact Cleverley made that Ferguson has so often lamented the youngster's absence despite the fact he has only made five Premier League appearances for United.
"Cleverley is an excellent young talent," said Ferguson, who did admit the 22-year-old is more likely to figure in Monday afternoon's reserve team encounter with Chelsea rather than the real thing.
"He does our chances a lot of good because we have been carrying the burden with limited resources."