Park - Expectations too high
Park Ji-sung believes too much can be expected of Manchester United because of their remarkable record over the years.
Last Updated: 04/02/12 1:46pm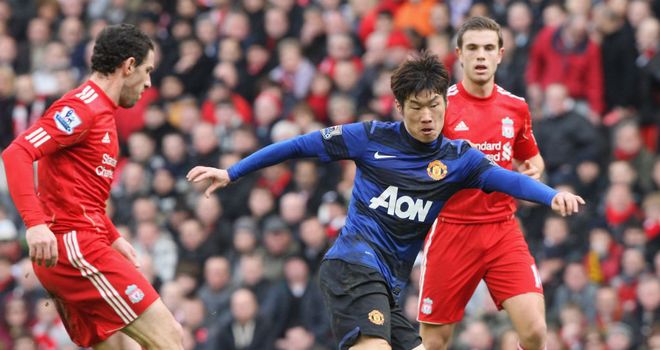 Park Ji-sung believes too much can be expected of Manchester United because of their remarkable record over the years.
The Red Devils have been criticised for their performances over the past 18 months despite winning the title last term and being level with Manchester City at the top of the current standings.
United have failed to advance to the last 16 of the UEFA Champions League, but Park insists they are still enjoying a strong campaign.
The South Korean feels the reason they might not be pleasing as many people is because their swashbuckling style of old created unrealistic expectations.
"It might be that before we scored a lot of goals and that has a big impact on the fans," said the midfielder.
"Their expectations become too high. Maybe also because we are out of the Champions League and the FA Cup, people think Manchester United is no good.
"But we can show our strength on the pitch. We are still producing good performances, we are level with Manchester City and can still win the title."
History
It is a matter of amazement to some that United are in their present position despite an obvious failure to reinforce the midfield.
The only transfer-window arrivals were a reserve-team player from Manchester City - Frederic Veseli - and 37-year-old Paul Scholes, who abandoned his retirement.
Yet still Ferguson has been able to fashion a title challenge out of a team who head to Stamford Bridge on Sunday looking for their first Premier League away win over Chelsea since 2002.
"It is part of our history," Park said.
"Last season we had a lot of injuries as well but we kept doing well and we won the title.
"It shows how strong our squad is, that we are able to deal with this kind of problem.
"Everyone has a good mentality. When we get these injured players back, they can help us fight to win the league."
With Wayne Rooney, Nani, Ashley Young and Tom Cleverley all set to return, United's resources are being strengthened significantly, even if Darren Fletcher and Nemanja Vidic will be sidelined for the rest of the season and questions continue to be asked of David de Gea, who is set to start in goal.
Park intends to do his bit, of course, having made a habit of scoring in games against United's major rivals - a run that continued at Liverpool last week.
"It always feels good to score goals against big teams," he said. "But I am just trying to help the team to win. It doesn't matter how many I get."
Old rivals
Now approaching his 31st birthday, Park has been around long enough to acknowledge Chelsea will be difficult opponents, even if it is hard to imagine them playing a significant part in the championship battle.
It is a rather odd scenario for Park, who since his arrival at United in 2005 has become used to Chelsea being the team to beat.
"When I look at the table, it is different," he said.
"But when I play against Chelsea, I don't consider them as being out of the title race. They are still our rivals.
"I know the points gap between Manchester City and Chelsea is quite a lot but they won't give up until the end of the season. They will always try to fight.
"I don't feel there is any difference with Chelsea compared to previous seasons."