Adkins questions Fox decision
Nigel Adkins was unhappy with Danny Fox's red card in Southampton's 0-0 draw at Birmingham, which Chris Hughton described as a 'fair result'.
Last Updated: 04/02/12 10:27pm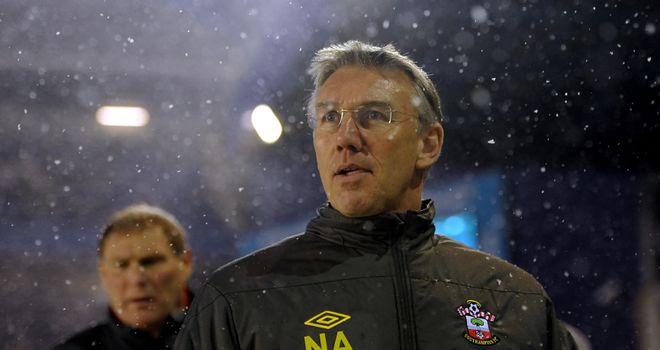 Nigel Adkins was unhappy with the dismissal of Danny Fox during Southampton's 0-0 draw at Birmingham City, which Chris Hughton described as a 'fair result'.
Fox was sent off with eight minutes left to play after receiving a second yellow card for a challenge on Birmingham winger Chris Burke.
However, while Adkins was pleased to leave St Andrew's with a point, the Saints boss questioned whether Fox should have been given his marching orders.
"We have an issue in the game at this moment in time," said Adkins. "It has been highlighted this season. The players do not know how to react.
"Whenever someone goes for a challenge everyone is up in arms. Is it a sending off? Is it a booking? Is it a perfectly good challenge?
"I think there needs to be some clarity coming out on this question.
"We are talking about two incidents which effectively put us down to 10 men for the last 10 minutes. From then on we had to make sure we could get something out of the game."
Harsh
Birmingham boss Hughton also thought the sending off Fox was a harsh decision, saying: "The first booking was fairly fierce. There was no complaints with the first yellow card but the second was harsh."
Aside from that incident, Adkins felt it was a good point for his side to get in a match played in atrocious conditions at St Andrew's against a Birmingham team who had not been beaten at home this season.
"I am sure that if you had asked the referee after 70 minutes about the conditions he would not have started the game," said Adkins, whose side had only picked up two wins from their previous nine games,.
"Birmingham were on top in the first 10 minutes but afterwards we dominated the game. But as the snow came down we were not able to pass the ball crisply enough and could not penetrate the opposition.
"When you look at Birmingham's home record in that context it was a good point to pick up away from home.
"We played very well in midweek against Cardiff and there was also a controversial decision in that game. So it was another good point to pick up against Birmingham.
"We have a strong squad of players and we have goals in the group to set us up for the games that are coming our way."
Hughton added: "The result was a fair result when you are up against a team as good as Southampton you reach a stage in the game where you are more concerned about not losing.
"On possession it was probably fairly even. We definitely had the better of the chances and if there was one team which deserved to win on chances it was us.
"The best two chances were the header from (Guirane) N'Daw and (Marlon) King."
Hughton was full of praise for N'Daw's performance after his return from playing in the Africa Cup of Nations for Senegal.
He said: "In all honesty I wasn't sure what to expect from him. It has been a couple of tough weeks for him but I was delighted with his performance."