Scott expected Grabban stay
Rotherham United manager Andy Scott believes they will face a battle to keep Lewis Grabban this summer.
Last Updated: 06/02/12 6:45pm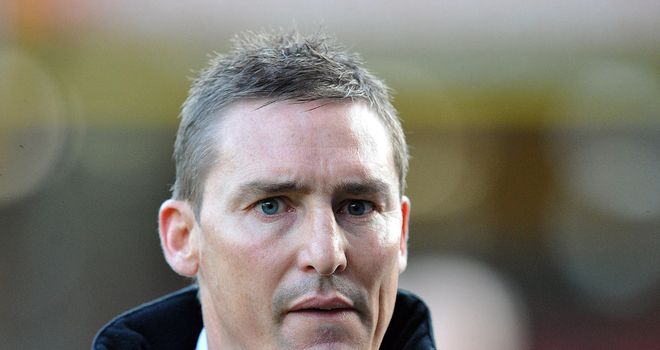 Rotherham United manager Andy Scott insists star striker Lewis Grabban was never going to leave in January, but knows that they could face a tougher battle this summer.
The 24-year-old has been a revelation since joining on a free transfer in the summer from Millwall, netting 15 goals in 31 appearances.
His stunning form saw the livewire forward linked with the likes of Sheffield Wednesday and Bournemouth, but Crawley tested the Millers'
resolve with an offer described as "embarrassing" by Scott.
However, he told skysports.com he has challenged Grabban to continue his impressive start to the season in order to earn a big summer move.
Interested
"Well, it wasn't quiet, but from our stance, and having spoken to Lewis, he understands that if performs as well in the second-half of the season as he did in the first then there will be bigger and better clubs coming in for him during the summer, which will make it even harder for us to hold on to him," explained Scott.
"It is the opportunity for him to play regularly for a whole season, rack up 50 plus games and score the 25 goals that he is capable of doing before hopefully playing for us at a higher level.
"If that does happen then we will have a much better chance of keeping our better players rather than other clubs coming in and taking them off us.
"That is our aim and he is committed to us till the end of the season before re-assessing his situation then, which is what we want.
"We want clubs to be interested in him because that means that he is doing what we have asked him to do."
Quality
The Millers avoided the rush on transfer deadline day after strengthening earlier in the month with Scott Griffiths (Peterborough), Rhys Taylor (Chelsea) and Kieron Cadogan (Crystal Palace) all arriving on loan, but Scott refused to rule out further additions in the loan window.
"It is always a tricky time and sometimes you are better off biding your time because the loan window will reopen in February and we may be able to do better business there," he continued.
"January is always a difficult time to bring in quality players because clubs are reluctant to let players go, but we've got a lot of lads coming back from injury now and we aren't too bad in terms of numbers.
"When the right one comes along we will be ready to bring them onboard and integrate them straight away."