Gutierrez remains focused
Jonas Gutierrez insists Newcastle will not be distracted by the possibility of the Champions League.
Last Updated: 08/02/12 10:32am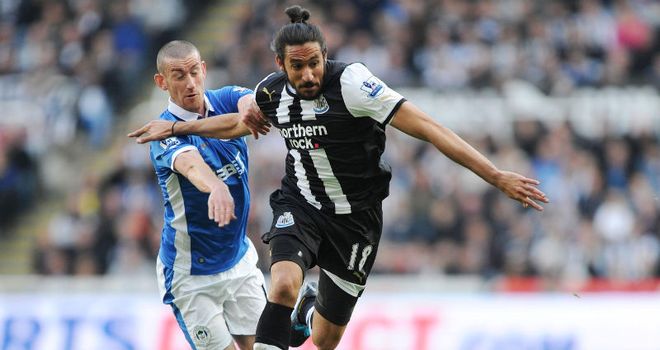 Jonas Gutierrez insists Newcastle will not be distracted by the possibility of the UEFA Champions League.
Ahead of Saturday's difficult trip to title-chasing Tottenham, Alan Pardew's team sit fifth in the Premier League and just one point behind fourth-placed Chelsea.
It is a remarkable achievement for Newcastle, especially after they had been tipped to struggle this season in the wake of last summer's squad upheaval.
But Gutierrez is adamant no-one inside the club will become distracted by the successful campaign and the possibility of returning to Europe's top table.
"We are not thinking about (the Champions League). We are just thinking about the next game," he told The Journal.
Important
"We are in a good position, but I think the team and all of the players, we don't think about what the fans and the press are saying. We are trying to focus on the games that we have left.
"That is what has brought us success so far and that is what we must continue to do. We know we are having a great season, but we have to focus game-by-game and that means not thinking ahead of ourselves.
"We are thinking about Tottenham only - no-one and nothing else."
Gutierrez thinks Papiss Cisse's partnership with Demba Ba can help Newcastle achieve their targets after the £9million January signing's debut goal against Aston Villa.
"We always knew the type of player that he is, but we didn't know what he could do, because you only learn about a player when you play with him," said Gutierrez.
"It was important that his first moment with the club was to score. He and Demba will be a good partnership."