Amos eyes No.1 jersey
Ben Amos has set his sights on becoming Manchester United's first-choice goalkeeper within the next five years.
Last Updated: 08/02/12 12:49pm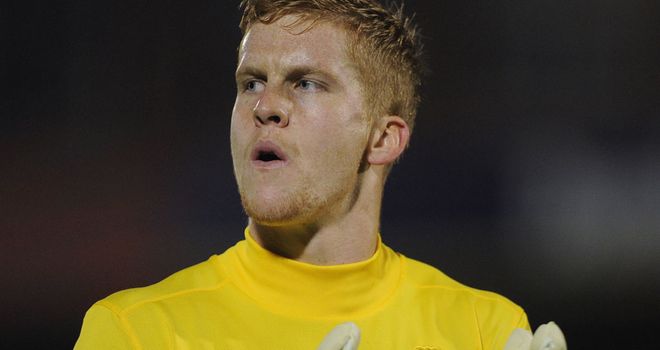 Ben Amos has set his sights on becoming Manchester United's first-choice goalkeeper within the next five years.
The 21-year-old marked his Manchester United Premier League debut with a clean sheet after injuries to David de Gea and Anders Lindegaard gave him a rare chance to impress against Stoke last week.
And, after experiencing a brief piece of the limelight at Old Trafford, Amos is determined to stake a serious claim for the coveted No.1 jersey in the coming seasons.
When asked where he saw himself in five years' time, he told the club's official website: "I hope I'm No.1 here at United, that's my aim. I hope to be playing week in, week out. I'll be 26 then and I guess I'll be in my prime.
"It's what I've always wanted to do. When people started to ask me what I wanted to do as a job, it was to play for United.
Belief
"I saw Peter Schmeichel playing and I had my mind set on it from then. I think I've worked too hard not to be patient and obviously you don't want to give up on your dream.
"Whilst I'm not playing regularly, I still believe I can do it. While that belief is there, I will persevere."
Keeping Stoke at bay at Old Trafford was a confidence-boosting start for Amos and he was delighted to get the opportunity to shine after previous Carling Cup appearances.
"It was really good," said Amos. "Obviously, I said after the game I'd been waiting a long time to play in the Premier League. I had played first-team games before but this was a big milestone.
"I've been trying to stay patient all season and have been dying to get out on loan at times. Everything happens for a reason though so it was probably a good job I didn't go out on loan."
The relationship between Lindegaard, De Gea and Amos ensures that they drive each other on, even though they are rivals for a place in the team.
"Yeah, it's a really friendly rivalry that we've got between me, Anders and David," Amos revealed.
"We're all good friends and obviously when we begin training we'll have a laugh and joke but, when it comes to the actual work, we're competing with each other.
"We all encourage and drive each other on to get the best out of each other while still going for the same shirt."
Awkward
Amos also leapt to the defence of current No.1 De Gea, a player who has attracted plenty of criticism following an unconvincing start to his Manchester United career.
The England U21 international watched on from the bench in admiration when De Gea pulled off an athletic save to keep out Juan Mata's free-kick towards the end of Sunday's 3-3 draw with Chelsea at Stamford Bridge.
"It was a really good save obviously," added Amos. "That's De Gea's strength in my eyes. He's light and quick and maybe he knows Mata from the Spain Under-21 days because if you look closely, David takes a couple of steps that way before Mata hits the ball so maybe he's seen that before and anticipated it.
"It was a brave move but it paid dividends. People often think that if you go with the top hand it's the wrong one but you can get a couple more inches if you turn your whole body.
"It looks a bit awkward but you can actually get a little bit extra reach, believe it or not."