Rodgers laments Bodde luck
Swansea boss Brendan Rodgers feels Ferrie Bodde has to be 'one of the unluckiest players alive' following his latest injury setback.
Last Updated: 08/02/12 5:31pm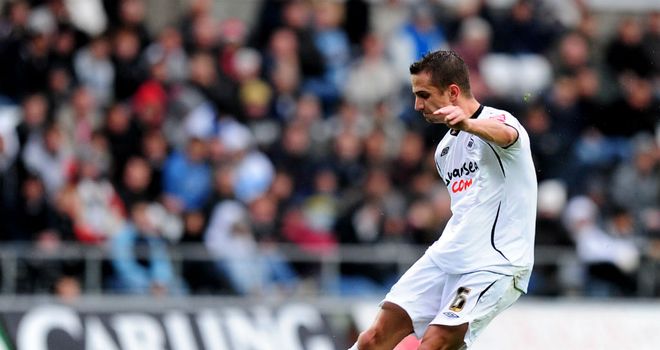 Swansea manager Brendan Rodgers feels Ferrie Bodde has to be 'one of the unluckiest players alive' following the midfielder's latest injury setback.
Bodde has been blighted by fitness problems since 2008 after rupturing a cruciate ligament during their Championship campaign following promotion from League One.
He has struggled with the injury ever since and has been forced to watch the Welsh club's ascendance to the Premier League from the sidelines.
Setback
The Dutchman appeared on the road to recovery when he played for Swansea's reserves last week against Arsenal, only to suffer a further setback with a serious injury to his opposite knee.
The 29-year-old is set to undergo surgery in his native Holland amid fears he could be forced to call time on his career.
Swans boss Rodgers told the South Wales Evening Post: "Ferrie has got to be one of the unluckiest players alive.
"You look at what happened and it's virtually a nothing challenge.
"I have spoken to Ferrie, and he is trying to be upbeat because that is the guy he is.
"But he is going to need another operation. Once he has that, all being well that will take him up to being out for around four years.
"That's a long, long time for a footballer."
Bodde has made just four brief appearances for Swansea since first damaging his left knee back in November 2008, with a series of comeback attempts ending in disappointment.
The midfielder is now reportedly facing another six months out and Rodgers admits all he and the club can do for now is monitor the situation.
Time
"The swelling is bad on Ferrie's knee at the moment," he said. "He is back home with his family because there is not a great deal he can do at the moment.
"We just need to take a bit of time to reflect, as Ferrie is doing at the moment, and then we will have a look at things.
"At the moment all we are doing is seeing how he is over the next few weeks, and then we'll take it from there."