Pardew rules out England post
Newcastle boss Alan Pardew has ruled himself out of the running for the England job, saying the national post is not for him.
Last Updated: 09/02/12 7:17pm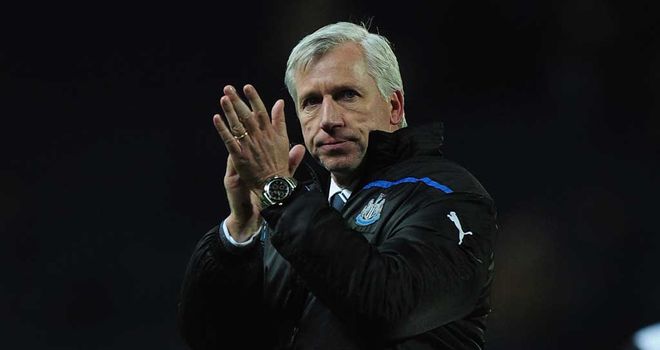 Newcastle boss Alan Pardew has ruled himself out of the running for the England job, saying the national post is not for him.
The Magpies coach has been touted as one of those the Football Association may turn to in the wake of Fabio Capello's decision to walk away from the job.
Tottenham coach Harry Redknapp remains the firm favourite to be handed the reins, but Pardew is considered to be an up-and-coming coach who could lead the Three Lions into a brighter future.
The work he has overseen at Newcastle has not gone unnoticed, with the club currently pushing hard for a top-four finish in the Premier League.
Pardew considers his efforts on Tyneside to be a work in progress, though, and insists he has no plans to turn his back on the club any time soon.
He is flattered to be among those mentioned as possible candidates for the England job, but has made it clear that he will not be throwing his hat into the ring.
Proud
"Firstly as an Englishman, I am proud to be in that sort of frame, but it's not for me and I will make that quite clear," Pardew told Sky Sports News HD.
"I am not even in the running as far as I am concerned.
"I am very happy here at Newcastle. It's a little project here that's going really well and I want to see it through.
"The passion and everything about this place is why I want to stay here.
"I do hope it goes to an Englishman, just on a personal level. I think that's important this time. I really hope Harry and Spurs and everybody sorts themselves out and can do it in a manner that it works for everybody."
Candidates
"(West Brom manager) Roy Hodgson would have an opportunity and (West Ham boss) Sam (Allardyce) possibly - they are at the right age and right experience to do that role.
"Probably outside of them, there aren't too many leading candidates.
"There are a lot of young English coaches coming through, thank goodness, especially in the Championship, and I think we will be better set perhaps the next time (the job) comes around.
"But this time, there is an outstanding candidate in Harry and I just hope it all works out and it can be done in a manner that works for both Tottenham and England."
That process could take some time, but Pardew would be comfortable for England to head into a friendly clash with Holland at Wembley on 29th February without having appointed their new boss.
He said: "You have got Trevor Brooking, Gareth Southgate and Stuart Pearce there - I don't see any problem in them taking that game, and I think that would be correct because even if the job is going to go down one road, let's say, Harry needs some time to settle himself and have some respect for Tottenham as well."