Mowbray hails Main man
Middlesbrough boss Tony Mowbray has heaped praise on striking prospect Curtis Main.
Last Updated: 09/02/12 3:36pm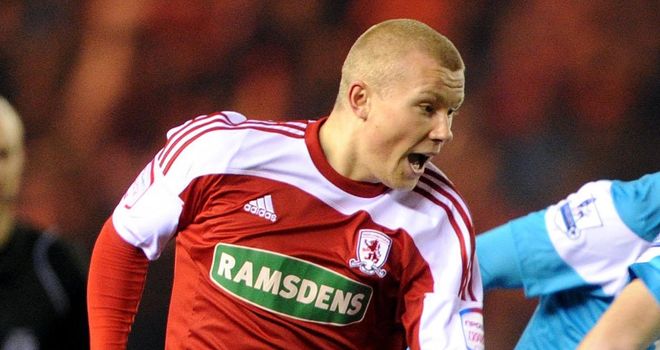 Middlesbrough boss Tony Mowbray has heaped praise on striking prospect Curtis Main.
The 19-year-old former Darlington striker was snapped up by Boro in the summer and has been doing well through their academy set-up.
He made his league debut at the weekend, which earned him his first full start in their FA Cup replay with Sunderland, and he won the Man of the Match in the 2-1 defeat - setting up Boro's goal for Lukas Jutkiewicz.
"He's a confident boy and he's fast, he's strong and he's got two good feet," said Mowbray.
"The bottom line is if he wasn't ready to play, he wouldn't have played. He's scored something like 19 in 15 games for the development team.
"He deserves an opportunity and he did okay, he didn't do himself any harm.
"Sometimes it's about trying to find the right environment and sometimes opportunity is what young players need.
"He's a boy who left Darlington of the Conference less than a year ago on a free transfer. But what we saw was an asset-rich footballer and sometimes you can try to mould those assets if there's something to work with.
"They only don't make it if they don't listen, take it on board and grow as a footballer. To be fair to him, since he came into the building he's shown all those qualities and I'm delighted for him that he's held his own against a Premier League defence."
Reach
Mowbray was also very pleased with another of his young stars Adam Reach, who came off the bench to impress.
"Adam is a very talented boy, he has fantastic quality and close control," said Mowbray.
"We've got other young players, such as Cameron Park and Luke Williams, who haven't been sighted for a while.
"When injuries come along, they've got to grab their chance. Curtis did himself no harm at all and there will be other opportunities for him because of what he's produced."