Kean positive over Samba
Steve Kean says wantaway Chris Samba will continue trying to win back a first-team spot as soon as he has recovered from injury.
Last Updated: 09/02/12 4:57pm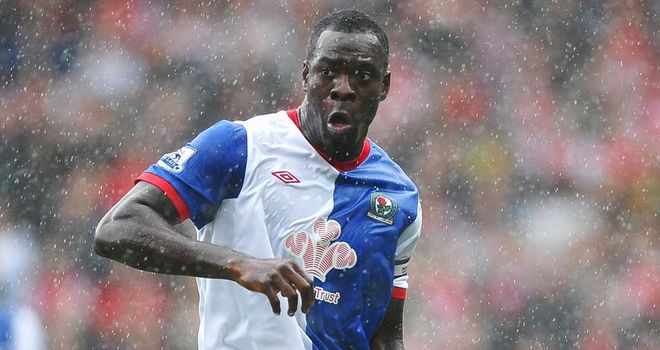 Steve Kean says wantaway captain Chris Samba will continue trying to win back a first-team spot as soon as he has recovered from a hamstring injury picked up this week.
The 27-year-old has been training with the reserves since he handed in a transfer request last month and has been a vocal critic over what he perceives as Venky's lack of ambition since they took control of Rovers.
Samba was set to face Carlisle in a reserve game on Tuesday in a bid to increase his match-time only for a hamstring knock to derail his progress.
The skipper will now miss Saturday's visit of QPR, having not played for Blackburn since January 2nd.
However, despite the setback, Kean insists his skipper remains focused on putting all the negative feeling behind him and playing his way back into the first XI.
"We want to get Chris back on the pitch and make sure he's in the proper physical state," said Kean.
"His actions as far as coming in and training - he trained really well on Monday - he's been in, he's been around the place but what happened and what was said in the window he can put behind him.
Enthusiasm
"I can only take his enthusiasm and application in the sessions and that was excellent on Monday and that's the last session he's had, unfortunately.
"After the session, Chris felt a sensation in his hamstring and was getting a bit of back pain so because of that injury he didn't manage to play in the game.
"He has been getting treatment on his hamstring and back ever since, so unfortunately he's not available.
"I'm sure once we can get this injury he's got cleared up he'll be back on the pitch with the reserves to get some minutes under his belt because we want to get him back as quickly as possible.
"We've got to make sure that when he's feeling any niggles like this he gets it right and he's in good hands with our medical team.
"There's another reserve game on Monday and if he can make that and get some minutes under his belt fantastic, if not, we move on."