Anichebe not a super sub
Everton boss David Moyes does not think Victor Anichebe is a clinical finisher, but is happy he is developing a knack for important goals.
Last Updated: 10/02/12 7:05pm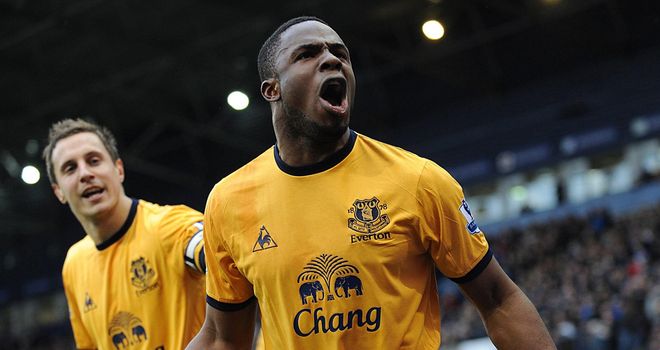 Everton manager David Moyes does not believe Victor Anichebe is a clinical finisher, but is happy the striker is developing a knack for scoring important goals as a substitute.
The Nigeria international is the Toffees' joint-top scorer with four goals in nine appearances of an injury-hit season, level with defender Leighton Baines, who has played 29 times.
Three of those strikes have come in seven matches since Anichebe returned to the first-team on New Year's Day and they have been significant goals, as they helped secure five points on their own.
He hit the winner against West Brom and earned 1-1 draws at Aston Villa and Wigan, last weekend - all after coming on as a second-half substitute.
Moyes is looking for the 23-year-old to enjoy a long run in the side to show he is over his injury problems, having missed almost a whole year spread over the 2008/9 and 2009/10 seasons after knee surgery, suffering a further knee injury last season and a groin problem in September.
Delighted
"I don't think Victor would ever be classed as a clinical finisher," said Moyes. "He makes a lot of assists, but has come on and played a part in scoring a few goals.
"If you had said to me in the past did I ever think Victor was a super sub I'd say definitely not.
"But I don't really care what you call them. If people come on and score goals I am delighted, whether it is for 20 minutes or from the start of the game.
"We needed a goal last week (against Wigan) when we weren't playing well enough, but got one back to get us a draw.
"He has started a couple of games, come off the bench in a couple of games and he is doing okay and we did miss him, because he allows us to play in different ways.
Instant results
"The big thing is he needs to get over his injury problems completely; he's had one or two scares this week and we need to see how he is."
Everton face Chelsea on Saturday having not lost at home against them for three years.
Moyes recognises the fourth-placed Londoners are having something of a transitional period following the arrival of former Porto boss Andre Villas-Boas last summer.
But he believes the Portuguese has to be given time, something which is not always a readily-available commodity at Stamford Bridge, to make his mark on the Premier League.
"People want instant results all the time and it doesn't always happen in football," said Moyes.
"But the manager did great at Porto so he earned the right to get a chance at the Chelsea job and he looks as if he is doing a decent job."