No England worries for Bent
Darren Bent feels like the 'man in possession' for England, even though he will now have to impress a new manager to go to Euro 2012.
Last Updated: 12/02/12 12:30pm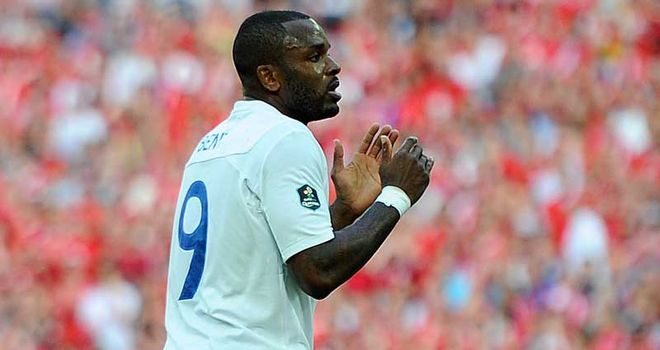 Darren Bent feels like the 'man in possession' for England, even though he will now have to impress a new manager to book a place in the Euro 2012 squad.
Bent has started to establish himself as a key player for the Three Lions over the past couple of years under Fabio Capello, but the Italian resigned on Wednesday and the search is now on for a successor.
Whoever takes charge will have their own views on what is best for the national team, and Harry Redknapp is tipped to get the job after enjoying great success with Tottenham.
The pair worked together at White Hart Lane for a while, with Redknapp famously saying that his wife could have scored one chance that Bent missed, before selling the striker to Sunderland.
However, Bent insists that his relationship with Redknapp was always good and he is convinced he can keep his place in the England team by performing well for Aston Villa.
"I have learned to be much more confident in my own ability," he told the Sunday Mirror.
"Since Spurs, I have kicked my career on, and now, if I am in a blip, I just get on with it, go back and watch the footage of games and see what I can do better.
"As far as England is concerned at the moment, I feel like the man in possession.
"Every time in the qualifiers that I was fit, Fabio Capello played me, even though he didn't take me to the World Cup before that.
"But it's the first day of school again for everybody, isn't it.
Committed
"I feel that all I have to do is keep doing what I'm doing, play well for Aston Villa, and no one can really ignore goals.
"If I can keep playing well and scoring goals, then if Harry or somebody else is the manager, they will see that and pick me too.
"To be honest, there weren't really any big issues between me and Harry.
"A lot was built off that one quote. In the next game, I scored two against Bolton.
"When I left Spurs, I went to Sunderland and did well and now, touch wood, I'm doing well here."
Bent was linked with a move away from Villa in January but laughed off talk of a switch to Liverpool and says he is committed to staying in the Midlands for many more years.
He added: "I've said for a while that I want to stay at Villa for a long time and that I am settled. I hope that now I can do it.
"To be fair, the rumours didn't upset me because, for me, it was easy. I was the only person who knew for sure that I wasn't going anywhere.
"While it was flattering to be linked with other clubs, like I was, at the same time I knew what was happening in my head and that I wanted to stay."