Gardner feels much happier
Craig Gardner says he is enjoying his football again at Sunderland and has attempted to play down reports claiming he is suffering from homesickness.
Last Updated: 16/02/12 10:54am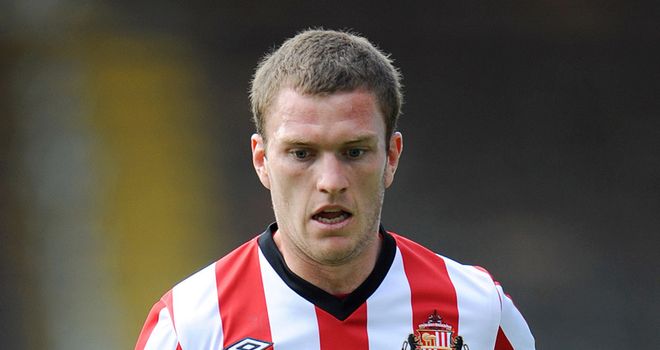 Craig Gardner claims to be enjoying his football again at Sunderland and has attempted to play down reports suggesting he is suffering from homesickness.
It has been reported this season that the midfielder longs to make a return to his West Midlands roots, having found it difficult to settle on Wearside after completing a switch from Birmingham.
Gardner insists there is nothing in these stories, with his dreary demeanour during the first half of the season down to a lack of games and Sunderland's failure to pick up wins.
With the club now heading in the right direction under Martin O'Neill, and with more faith placed in his ability, the 25-year-old says he has no desire to leave the North East any time soon.
"I've heard a lot about homesickness but I don't really think it's right to describe it as that," Gardner told the Sunderland Echo.
Tough
"I came to Sunderland under Steve Bruce and I wasn't playing and it was tough for me, not playing.
"Me and Steve Bruce had a chat about it but I've never once come out and said in the media that I was homesick and wanted to leave.
"It's just that I thought to myself: 'Why did I come here?' I'd come here to play and I wasn't playing.
"I could have gone somewhere else and been playing, I could have stayed in Birmingham and kept on playing. That was where I was coming from.
"It's all about playing, if you're going to be happy. Don't get me wrong, I don't mind fighting for my place, but I felt as though I wasn't getting a fair crack of the whip. I felt as though I wasn't being played in my right position, felt as if I was being reined in.
"Those were the things that made me unhappy and think that if it wasn't going to work out, then it might be better for me to go back to the West Midlands where there were plenty of opportunities."
Improved
Gardner says he now feels settled on and off the field, with it his intention to be a key player for Sunderland for many years to come.
He said: "The truth was that I found it tough when I first got here, for a variety of reasons, but it has gradually improved to the point where I'm really enjoying it and looking forward to the games and I think everyone in the squad is.
"We've become a tight-knit unit and whether you're playing or not, you're feeling part of it.
"I've been here now six months and I've got say that I'm loving it here, I genuinely am. I'm enjoying it, I'm settled down and I want the fans to know that.
"I want to keep my head down and keep going and keep helping the club progress."