Green to give all for Rams
Paul Green is refusing to let his contract problems interfere with his aim of playing his way back into the Republic of Ireland squad.
Last Updated: 16/02/12 11:23am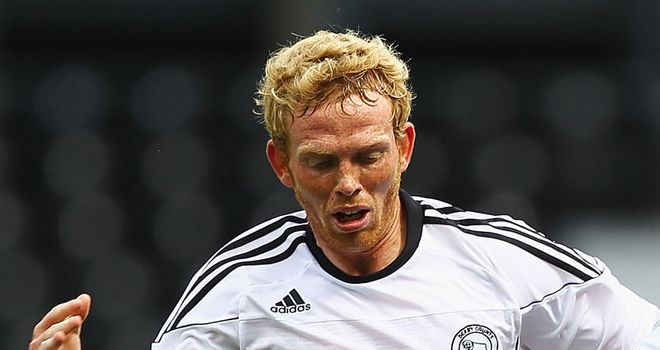 Paul Green is refusing to let his contract problems interfere with his aim of playing his way back into Giovanni Trapattoni's Republic of Ireland squad.
The 28-year-old was put on the transfer list by the cash strapped Rams who were hoping to ease their financial worries with a big fee for the international who is out of contract in the summer.
Derby boss Nigel Clough has already stated he would like to keep him at the club but cannot afford to pay his wages.
Green was sidelined for the 3-2 defeat at Barnsley on transfer deadline day - in case a late bid came in for him, but none arrived.
To make matters worse Green, who has battled back bravely from injury last year, has also been overlooked for Ireland's upcoming friendly against Czech Republic in Dublin.
But the midfielder has promised to play his heart out for the Rams in a bid to secure himself a club for next season and show Trapattoni what he has been missing ahead of this summer's European Championship.
"It is a little bit of a difficult situation when you're a bit insecure about your future," he told the Derby Evening Telegraph. "But I'm a Derby County player and I'll always play my heart out for them. Then we'll see what happens at the end of the season.
"Hopefully, we can get something sorted because I'd love to stay and my family are settled here. But this is football and, sometimes, you have to move on.
"The club obviously want to keep their finances in order and have a budget to stick to, so it's up to them what they want to do.
"I've just got to get my head down and give 100% for Derby County while I'm here.
"After being out for seven months, I'm just loving playing football again. I was in and around the squad before I got injured but it's going to be very tough to get back into it now.
"In the three months I've been back, I've been playing right-back and right wing, while people like Glenn Whelan and Darron Gibson are playing central midfield in the Premier League.
"Fair play to them, it's a very strong squad. I was a bit gutted not to get the call-up but I always knew it would be difficult for me after such a long lay-off.
"Trapattoni texted me while I was injured and when I was back playing, so he's obviously kept tabs on me.
"You just never know what can happen in football, so I'll just wait and see."