Tate edges towards comeback
Alan Tate is hoping to make his Swansea comeback next month when the club travel to Wigan in the Premier League.
Last Updated: 21/02/12 10:54am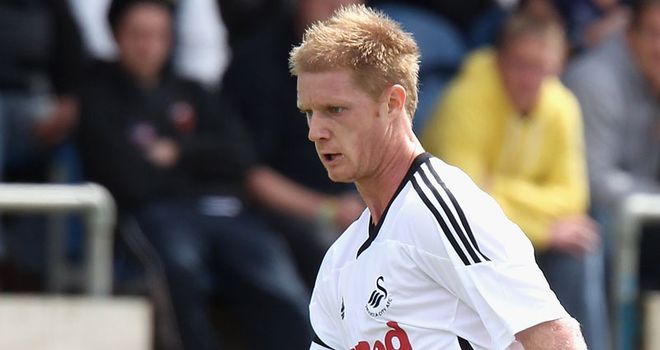 Alan Tate is hoping to make his Swansea comeback next month when the club travel to Wigan in the Premier League.
The defender has only made two appearances this season for the Swans after breaking his leg in August after crashing a golf buggy.
Following the crash, the 29-year-old feared he would never play football again, but has managed to make three appearances for the reserve side in the last seven weeks as he continues his comeback.
"My leg's got to be 100 per cent and it's not 100 per cent at the minute," Tate told the South Wales Evening Post.
"I've got through a few 90 minutes with the reserves, but I wasn't sailing through games and feeling ready, I was struggling.
"It's better than expected, it's just a case of getting over the last bit and getting back to normal.
"We've said we'll wait until the end of the month to get everything up and running and we'll take it from there.
"The gaffer said he would put me on the bench for the Bolton game, but I knew I wasn't ready.
"I'll get myself fit, then I've got to try to get a place on the bench and work my way up from there.
"After the Arsenal game, when I knew everything wasn't up to scratch, it was a case of the manager pulling me in and telling me he wants me up to speed.
"I've got this month to get ready and then hopefully I'll come back for the last two months of the season."
With his only league appearance coming in Swansea's opening game of the season, Tate has been forced to watch the side establish themselves in the top flight, whilst he was making trips to hospital to use an oxygen chamber.
Glad
But the Swans vice-captain is glad he was injured off the pitch, adding: "If I'd broken my leg playing football it could have been worse than that.
"It might not have been a clean break and I might have needed an operation so there are loads of things that could have gone wrong.
"Now it's about getting fit, getting the bone healed properly and the muscle up to scratch.
"The injury hasn't affected me at all really. What's done is done and I can't do anything about it.
"I've enjoyed watching the lads and I'm glad they're doing well, but on the other hand I want to be involved. But it was my own fault and I can live with it."