Nasri out to silence critics
Former Arsenal star Samir Nasri is determined to not become a £24million flop at Manchester City.
Last Updated: 21/02/12 12:02pm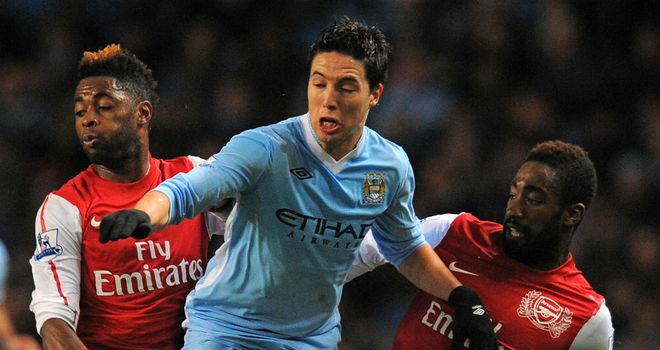 Former Arsenal star Samir Nasri is determined to not become a £24million flop at Manchester City.
The Frenchman swapped Premier League clubs last summer in a big-money move in order to join Roberto Mancini's title challengers.
Nasri, though, has failed to reach the heights of his performances for Arsenal at City and has started just 25 games in all competitions for the Etihad Stadium outfit.
But ahead of Wednesday's Europa League last 32 second leg against Porto, the 24-year-old thinks he is beginning to show what he is capable of producing.
"It's always tough when you change, when you go to another team and have to be involved 100 per cent and I wasn't," said Nasri.
"Now I start to be settled and you will see a better Samir every week.
"You have to work when you don't feel well and are not producing what everyone expects. I was always confident about my quality and you will see that.
Fall down
"I never asked City to pay £24million, so it's not me. It was a lot of money. But every transfer now has a lot of money.
"What you want to do is to give something to the team and the people who bring you here and trust you. The money and everything isn't my problem.
"It's not the same way (as playing at Arsenal). You need to settle. Now I want to show everyone it wasn't a mistake."
Nasri's departure from Arsenal left some fans feeling betrayed and his exit is listed as one of the reason's Arsene Wenger's club are this season set to go another year without a trophy.
But the former Marseille man said: "I don't want Arsenal to fall down. I want them to win the FA Cup or something, because I have respect for the players and the manager.
"I know from the start that I made the right choice. Sometimes it's good to win ugly, you don't always have to play good football to win.
"Arsenal play good football. But after seven years they don't win, so that's difficult for them. But they have a good philosophy. I know they'll find some solution."