Williams always wanted to stay
Rhys Williams claims he never considered leaving Middlesbrough, with it having always been his intention to sign a new contract.
Last Updated: 21/02/12 1:18pm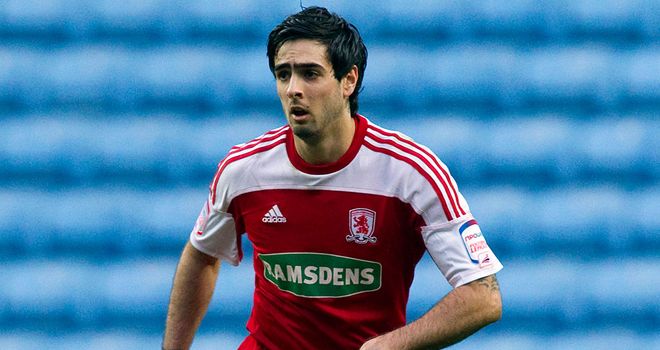 Rhys Williams claims he never considered leaving Middlesbrough, with it having always been his intention to sign a new contract.
The Australia international brought an end to the endless rounds of speculation regarding his future when he committed himself to a four-and-a-half-year deal at the Riverside.
The highly-rated centre-half is delighted to have been able to put the issue to bed, with the constant rumours doing no-one any favours.
Having been part of the set-up at Boro since 2005, Williams says moving on was never in his thoughts, with the club's faith in him and their ambitious plans for the future having convinced him that he is in the right place to continue with his ongoing development.
"I've always said I wanted to stay," the 23-year-old told the Evening Gazette.
Wanted
"I've never been in to see the manager (Tony Mowbray) or the chairman to say I wanted to leave.
"I get along with the manager, I get along with all the boys, I've been here since I was a kid, so I know the area. I'm really settled so I'm delighted it's been sorted.
"Knowing that the chairman turned down a deal made me feel more wanted here and after that I rang up and said 'Let's get this thing sorted'. I'm happy here and if the chairman thinks that highly of me, then why not stay? I'm ready to kick on now."
Williams was the subject of a bid from Premier League outfit Bolton during the January transfer window, but claims to have paid little attention to the offer.
Instead, he has remained fully focused on his duties at Boro, with a new deal having been agreed with just under 18 months left to run on his previous contract.
"I had a word with the gaffer recently and said 'I want to get this sorted'," added Williams.
Stronger
"To firstly kick all the speculation, but to also know where my future was going to be I had a word with the gaffer and he said 'we are going to be stronger next year', so it's going to be great, the future looks bright and I'm looking forward to it.
"The club showed their commitment to me by turning deals down and looking after me through my injuries and also bringing me through the youth ranks so I'm just over the moon and so is all my family."
Williams is, however, hoping that he will get the opportunity to grace the Premier League at some point in the future, preferably with Middlesbrough.
He said: "I want to get us into the Premier League. Everyone wants to play in the Premier League and I want to do it with this club.
"I don't see the point of going anywhere else and being a squad player when I can be here with the lads I've grown up with and take Middlesbrough up."