Allardyce - Referee buckled
Sam Allardyce felt the ref 'buckled' in sending off Robert Green in West Ham's win at Blackpool, which Ian Holloway described as 'horrendous'.
Last Updated: 22/02/12 7:32am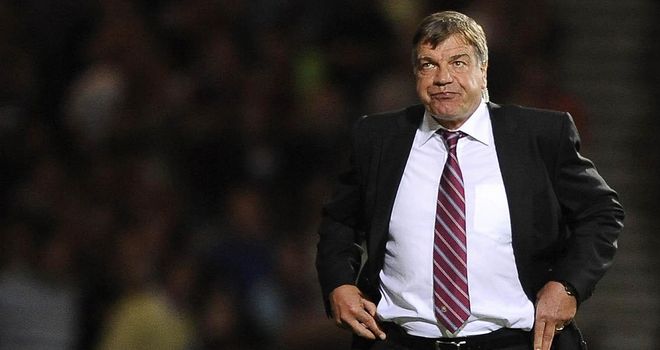 Sam Allardyce felt the referee 'buckled' in sending off goalkeeper Robert Green in West Ham United's 4-1 win at Blackpool, which Ian Holloway described as 'horrendous'.
Green was sent off after 53 minutes for a foul on Roman Bednar when West Ham were leading 2-1 and midfielder Henri Lansbury was forced to play the remainder of the game in goal.
Further strikes from Gary O'Neil and Ricardo Vaz Te secured the points as the Hammers returned to the top of the Championship, but it was the third game in a row that Allardyce's side had seen a player sent off.
"I thought the lads coped with it exceptionally well and I didn't think they'd cope with it to the level they did," said Allardyce.
"Not only did we cope with what Blackpool had to throw at us with the extra man but we started to play, create chances and punish the opposition to the highest order.
Outstanding
"To win 4-1 with 10 men is an outstanding performance. From start to finish it was an outstanding performance from every individual that took part.
"It would have been a great victory 11 v 11, but to have a victory like this 10 v 11 is just outstanding.
"We've won seven points out of nine with 10 men, but we've got to stop it because my heart can't stand it."
Allardyce was critical of referee Oliver Langford for dismissing Green, claiming the official bowed to pressure from Blackpool's players.
"There's not a chance he was last man," he added. "Abdoulaye Faye was round, if not Winston Reid as well.
"I thought the ref buckled under the pressure put on him by Blackpool players surrounding him and baying for the red card. He succumbed to that instead of assessing the situation."
Seasiders boss Holloway admitted his side had been second best in every department as they suffered their first defeat of 2012 and slipped out of the play-off places.
"It was pretty horrendous from our point of view," he said.
"Only one team turned up. In every single way they were better than us, they were more professional than us, they played it in the right way on a difficult surface and we just made mistake after mistake after mistake.
"To be honest, at half-time, God knows what the real score should have been.
"Just about everything that could go wrong did. I felt my lot were caught in the emotion of it, they weren't professional, they didn't get it right and we were beaten by a better team."