Hughes defends Diakite
Mark Hughes has defended Samba Diakite after the midfielder was sent off half an hour into his QPR debut.
By Jamie Casey
Last Updated: 25/02/12 7:20pm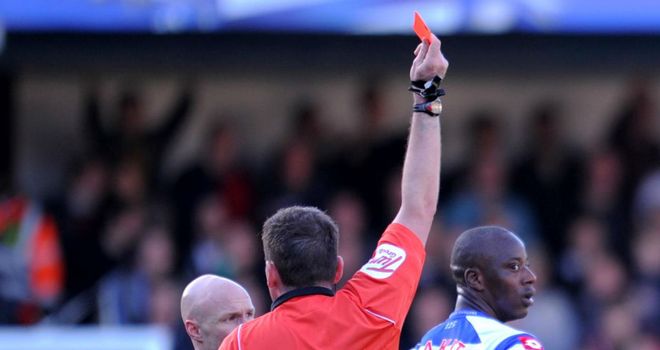 Mark Hughes has defended Samba Diakite after the midfielder was sent off merely half an hour into his Queens Park Rangers debut.
The Mali midfielder was twice booked for persistently fouling as he struggled with the pace of the game in a ruthless introduction to the Premier League during QPR's 1-0 home defeat to Fulham.
Hughes, though, admits the 23-year-old, who is on-loan from French side Nancy, was carrying out orders to 'be aggressive' and believes naivety played a part in the dismissal.
"In fairness to Samba, he was doing exactly what I asked him to do," Hughes told Sky Sports.
"He was asked to be aggressive. Obviously, he's new to the Premier League and he doesn't understand how it's refereed.
"I don't think the second one (yellow card) was too rash. I just thought that was a mistimed tackle. But that hurt us and at that point - 1-0 down and down to 10 men once again - it was difficult for us.
"But it was important that we had a response in the second half and I felt we did that. We didn't let our heads down and we kept going.
"At the moment things are difficult for us. Things are conspiring against us and we've just got to get through this and realise that we have enough to stay in this league, I'm absolutely convinced of that."
QPR were undone by Pavel Pogrebnyak's seventh-minute strike and were left to reflect on their fifth red card of the season, all of which have come at Loftus Road.
"We made our situation more difficult than it needed to be," added Hughes. "Obviously, we've lost another player to a sending off in the first half and it's very difficult to win Premier League games when that happens.
Damaged
"We were already 1-0 down at that point, so to stay in the game we had to keep our shape and I felt we did that and had a real go in the second-half but events in the first half damaged us too much.
"We need to get points on the board and certainly our home form needs to be better but we'll give ourselves a better chance of winning our home games if we keep everybody on the pitch for the full 90 minutes.
"That has to change and once we do that I know we've got enough quality."
Although Hughes admitted Diakite had to be dismissed, he refused to condemn his midfielder, although he questioned referee Phil Dowd's decision to refrain from handing a second yellow card to Fulham's Moussa Dembele.
He said: "I don't think there was a reckless challenge made in the whole game. There were mistimed challenges, which is why Diakite was sent off.
"I thought there was a case for Dembele to be sent off, he was lucky not to get a red card for two yellows because he cynically pulled back Joey Barton when already on a yellow.
"That should have been a second yellow and that might have helped our cause."
Meanwhile, Hughes moved to quash injury fears over loan signing Taye Taiwo, who hobbled off late on in some discomfort.
"He just got cramp so we had to get him off and had a ready-made replacement in Armand Traore," Hughes confirmed.