Fox relishing United return
Norwich ace David Fox is relishing the prospect of facing Manchester United on Sunday.
Last Updated: 26/02/12 1:22pm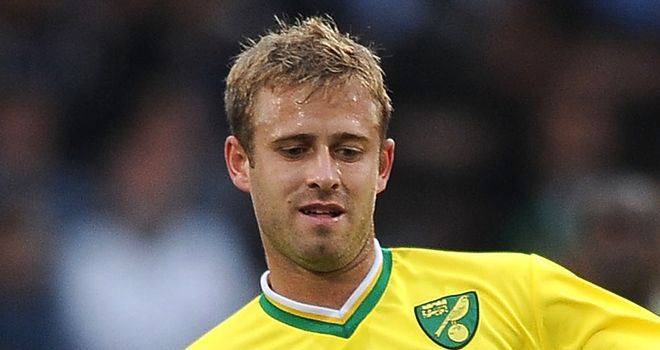 Norwich ace David Fox is relishing the prospect of facing Manchester United on Sunday.
The 28-year-old began his career with the Premier League champions, spending five-and-half-years with the club before leaving for Blackpool.
Fox ended up at Norwich after a spell with Colchester and is looking forward to pitting his wits against his former club,
"I think Manchester United at home is one that everyone is looking for when the fixtures come out," Fox said.
"Personally, that was one I was looking for and now it is here I am sure everybody is looking forward to it.
"About 10 years ago I was in the youth team there and looking up to players like Paul Scholes and Ryan Giggs, just as people like [Danny] Welbeck and [Tom] Cleveley are looking up to them now.
"It is unbelievable that they are still there and going strong.
"There was Giggs, Scholes, Gary Neville and Roy Keane - they are the best people to learn from.
"You see how they perform, how they approach training everyday and it really is an eye-opening experience when you are a young 16 or 17-year-old to be learning from those type of players."
Swap
Fox suggested he would try and swap shirts with Scholes after the game, although Giggs' jersey would be an attractive option given that Sunday would be his 900th appearance for Manchester United.
"That is a frightening record," Fox said.
"To play 900 games for a club is an unbelievable achievement, but to do it for Man United is something I don't think we will ever seen again.
"To be winning and challenging for the title for 20 years is unbelievable.
"It is just testament to his professionalism and how much he loves the game."
Fox was also quick to praise former manager Ferguson, who let him join Blackpool on a free transfer in January 2006.
"I had six months left on my contract so I went in and spoke to him and said
'I think it is time I left'," the midfielder said. "He agreed, he looked after me and was brilliant.
"A few weeks later I got a letter through the post from him thanking me for my attitude at the club and wishing me all the best for my career.
"It is a letter I have still got and I am very proud that he took the time out to thank me for my efforts and wish me luck."
While looking forward to coming up against his former club tomorrow, Fox insists the squad will not be overawed in their quest for three points.
"We have to try and look at it as a normal game," he said. "I know it will be very difficult but there are still three points up for grabs.
"You're not going to get anymore points because you beat Man United.
"That is how we've got to look at it and it is three points to try and be won.
"The manager expects us to win every game and I am sure Sunday will be now different.
"He expected us to beat Man City at their place and it might not happen on Sunday, but all the lads will go in expecting that and I am sure the manager will install the belief we can do it."