AVB confident over Lampard
Andre Villas-Boas insists he does not want Frank Lampard to leave Chelsea despite a much-publicised bust-up.
Last Updated: 27/02/12 5:55pm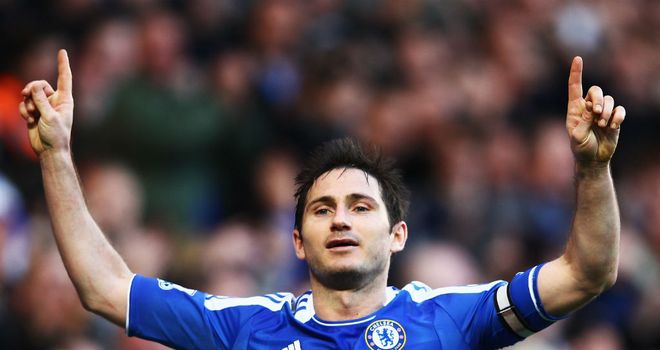 Andre Villas-Boas insists he does not want Frank Lampard to leave Chelsea despite a much-publicised bust-up.
Blues boss Villas-Boas stopped short of promising Lampard would not leave this summer but he was confident the midfielder would stay.
Saturday saw Lampard admit for the first time his relationship with Villas-Boas had "not been ideal", although he was keen not to dwell on the problems between them.
Villas-Boas has already warned of a summer clear-out should he remain in charge, but he made it clear he did not want Lampard to be part of the cull.
Asked if he was 100 per cent sure the 33-year-old would be at the club next season, he said: "I hope so.
"It does not depend on me. It depends on three parts - I want him, the person wants to stay and the club wants him."
Villas-Boas could hardly say anything else about a player who he admitted enjoyed legendary status among the club's fans.
Pressure
Even before Lampard made three separate bits of history by scoring his 12th goal of the season in the desperately-needed 3-0 Premier League win over Bolton, his was the name on the lips of the Stamford Bridge crowd.
"Super Frankie Lampard", they sang about the man who repaid their adulation with the 150th league goal of his career and his 125th in the league for Chelsea - taking him ahead of the legendary Jimmy Greaves.
Perhaps more significantly, the 33-year-old became the first player to reach double figures in the Premier League for nine consecutive seasons.
It was also the fourth time this term Lampard had scored after being dropped by Villas-Boas, who refused to bow to fan pressure to play him.
Insisting the crowd sang the midfielder's name "all the time", he said: "I take no instructions from anybody."
He added: "Frank goes on and on breaking the club's records and that is important for him. I congratulate him for that.
"He is a player who has been involved with all managers before and played in most of the games.
Doubt
"The only difference this year from the years before is that we have more competition in midfield and things become more difficult for everybody.
"But Frank is now in the top five of players most used so he is up there with the best."
Lampard helped ease the pressure on Villas-Boas, who looked visibly relieved after defeating Bolton in what was a first win in six attempts - and in front of Roman Abramovich to boot.
He said: "We have not been getting the results and pressure increases on team players and management. You have to deal with that and deliver."
Insisting he had never begun to doubt himself, he admitted his players may have lost some belief and said they now needed a run of victories to get it back.
"I just want to go into a run of results, win the next game and build something that we have been missing since the beginning of the season.
"If we get three or four wins in a row, it means a lot because of the knockout ties and that will give us the extra lift and motivation to maybe challenge for another place."