Nasri - We owe French fans
Samir Nasri admits that nothing less than a place in the knockout stages of this summer's European Championship will do for France.
Last Updated: 29/02/12 5:52pm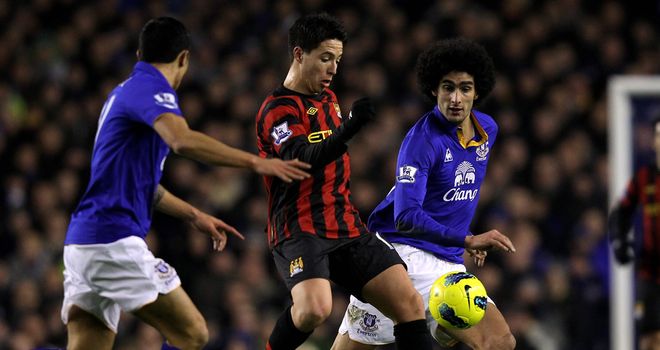 Samir Nasri admits that nothing less than a place in the knockout stages of this summer's European Championship will repair the damage done by the French national side in recent tournaments.
Amid rumours of player unrest and threats of strike action, the team have failed to live up to their world-beating reputation of the 1990's.
Under current boss Laurent Blanc, a veteran of the all-conquering France side of a generation ago, the team has undergone a dramatic return to form.
And Nasri has called on his team-mates to repay the fans for the dire performances of the recent past - starting with a win against historic rivals Germany on Wednesday.
"We need to repair the image of Les Bleus after two catastrophic campaigns," said the Manchester City playmaker.
Ambitious
"We're not going there to go sight-seeing. And it's good to be cast as an outsider that no-one is expecting anything from.
"We have a young team but there are also points in our favour. We need to be ambitious. In friendlies against high-profile teams, we've seen that we've been able to raise our level. It augurs well for June.
"When you play for France, you owe it to yourself to reach the quarter-finals. It's the minimum. And even though it's a quality group, you have to admit that it could have been worse."
Nasri was singled out by some as a ringleader of the troubles that blighted France's dismal showing at Euro 2008 in Austria and Switzerland, which ended in elimination at the group stage.
It cost him his place in Les Bleus' 2010 World Cup squad - an event which also ended in chaos and an exit at the group stages, as well as costing coach Raymond Domenech his job.
Excuse
"The generational problems were a false excuse to hide the failings on the pitch," added. "It was easy to say that the youngsters were the problem.
"In a long tournament, it's important to have team spirit. Today, the staff are very close to the players and try to live with them. That wasn't the case before.
"Everyone has their own methods. Domenech was more distant and he only spoke to certain players.
"We've started from scratch and all of that is far behind us. The horizon is very clear. It's better to look forward.
"Before, there was lots of uncertainty. I had to watch the TV to find out if I'd been called up. Now, the coach lets us know beforehand. We're more relaxed and we arrive with the desire to do well and to fight for him."