Al-Ain confident over Gyan
Al-Ain are in prime position to keep hold of on-loan Sunderland striker Asamoah Gyan, according to chief executive Carlo Nohra.
Last Updated: 05/03/12 9:26pm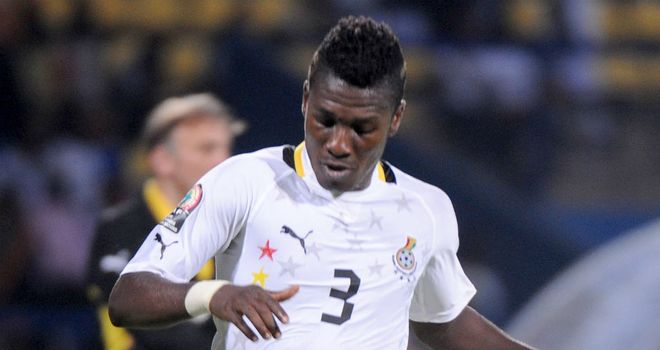 Al-Ain are in prime position to keep hold of on-loan Sunderland striker Asamoah Gyan despite interest from elsewhere, according to chief executive Carlo Nohra.
Nohra claimed on Monday night that Al-Ain, top of the UAE league, have "first option" on Ghana forward Gyan despite revelations on Monday that an unnamed Qatari club has made a bid for him.
The Black Cats have loaned Gyan to Al-Ain until the end of the UAE season, which finishes in mid-June, for a fee of £6million.
Unconcerned
Gyan's future on Wearside has subsequently been the subject of much uncertainty and a bidding war has apparently already begun for the 26-year-old, with reports a second UAE team has also shown an interest.
Nohra is unconcerned by the speculation after claiming a deal was in place for Al-Ain to buy from Sunderland at the end of the season.
"Everyone is declaring their interest in Gyan, and rightly so (because) he is performing very well and everyone should be interested," said Nohra.
"But we are very comfortable with our legal situation in this. We have a contract in place which has certain provisions for a permanent transfer so we are in no rush to make the decision now."
Gyan will have two years of the contract he signed when he joined the Black Cats from Rennes during the summer of 2010 remaining at the end the current season, and his future could have a major bearing on manager Martin O'Neill's transfer plans.
After paying £6million to acquire Gyan's services for the season, reports have suggested Al-Ain can pay a further £3million to complete a permanent deal.
That would close the door on a potential bidding war, with Nohra hinting his club had first refusal on a deal.
"Yes, it would be safe to say that (the club have first refusal)," he told Sport360°.
"But let's leave it at that. It's important for the Al-Ain fans to know that the club is comfortable with its own legal position in respect to all of this.
"We won't be rushed into it as a knee-jerk reaction to what the market may be doing. We are in the driving seat and we will remain in that position until the clauses in the deal expire."
No obligation
Nohra did admit, however, that the agreement did not oblige Sunderland to sell a striker who has scored 11 times in 10 league appearances to send Al-Ain five points clear in the Pro League table.
"The player himself has a role in this and so do Sunderland," he said.
"The agreement that binds the three of us gives Al-Ain priority, but it also gives the player the right to come out and say what he wants as well."