Downing praises squad depth
Stewart Downing believes the size and quality of Liverpool's squad is the reason that they have recently progressed.
Last Updated: 09/03/12 12:48pm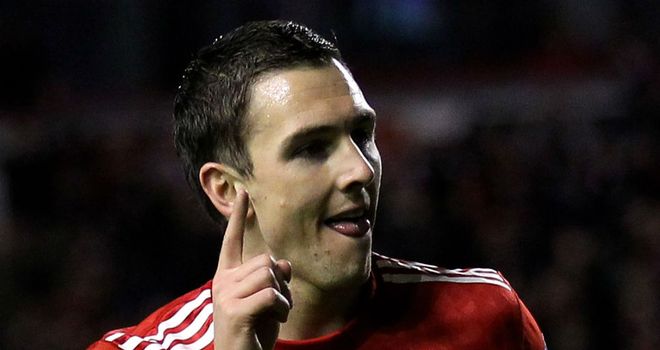 Stewart Downing believes the size and quality of Liverpool's squad is the reason they have progressed in the last 12 months.
The former Aston Villa winger made the move to Anfield at the start of the season and has made 32 appearances since joining.
He played the whole game in the Carling Cup final triumph against Cardiff at Wembley last month and believes his manager Kenny Dalglish deserves a lot of credit.
Despite being seventh in the division and in danger of finishing lower in the table than their sixth-placed finish last year, Downing believes the Reds are making steady progress due to Dalglish's leadership.
Great squad
He said: "Obviously he'd been out of management for a while but he still knew his stuff. He must have done because he got the club to a final and he's got a great squad here.
"It must be tough for him with the players that he's got. When people are performing and he's got to pick an 11, it's difficult but that's part and parcel of being a manager and I think he's handled it really well.
"By getting a trophy on board the club has done well and his status had gone up even more.
"I've enjoyed playing for him. Once I heard of the interest here, I wanted to come and play for him because of his reputation and what I'd heard of him.
"I'm enjoying it here and I'm sure he's enjoying it and winning a trophy will have given him a lift as well. Winning any trophy is good and once you get one, it gives you something to build on and I'm sure the gaffer and the staff will be stressing that to us."
Meanwhile, Downing has admitted that he still has a lot of time for his former manager Martin O'Neill.
Massive
The pair, who worked together at Aston Villa, will be up against each other as Liverpool go to Sunderland this Saturday.
Sunderland have vastly improved since O'Neill joined the club in December and would be just two points behind Liverpool if they win at the Stadium of Light.
Downing added: "He was out of management longer than I expected him to be.
"I've not seen him since he left Villa but I've got massive respect for him. He bought me at Villa as an injured player and I was out for seven months from the day he bought me.
"So he had massive confidence in me to buy a player in that situation and I'll always respect him for that.
"I thought he was a top manager, one of the best I've played for. He was a massive motivator and I think you can see that he's just a winner."