Gibbs keen to maintain form
Kieran Gibbs has challenged his Arsenal team-mates to maintain their current form for the rest of the campaign.
Last Updated: 09/03/12 1:31pm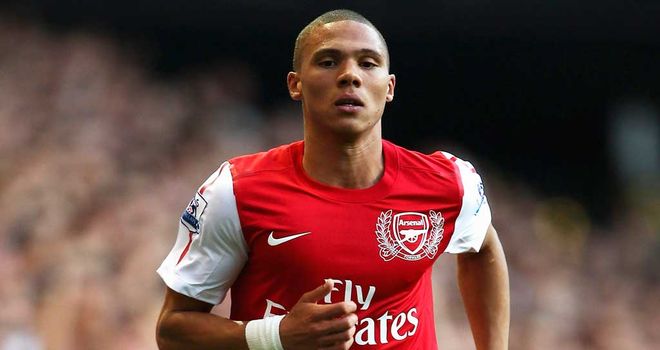 Kieran Gibbs has challenged his Arsenal team-mates to maintain their current form for the rest of the campaign.
The defender is one of a number of players who have recently returned to the Gunners' squad after injury.
He was out for four months before returning for the 4-0 defeat at AC Milan last month.
Since then, Arsenal have been in clinical form, beating Tottenham and Liverpool in the Premier League, and were close to overturning Milan's aggregate score in the Champions League as they won 3-0 at the Emirates Stadium on Tuesday.
Four wins in a row have lifted Arsene Wenger's side to fourth in the table and they may be in with a chance of competing with rivals Tottenham for the lucrative third-placed finish.
But Gibbs believes acknowledgement must go to the players who were involved during the darker days of their season.
Credit
He said: "I think you have to give credit to the players who played while the others were out.
"People don't realise that we basically had half a squad at one stage and the team was just down to its bare bones.
"But obviously now we have a bigger squad, we can rotate more, players won't be as tired and the team looks a lot stronger. You can obviously see the benefits from that.
"Everybody has come together now and we have overcome a difficult period. We need to be consistent like this now for the rest of the season."
Quality
Meanwhile, manager Arsene Wenger has admitted that he never doubted the quality of his side and believes that nobody can cope with them at their best.
The next challenge for the North London outfit is a home game with Newcastle on Monday evening, as they aim to put distance between themselves and the clubs directly below them in the table.
But Wenger is confident that his side are hard to play against on current form, saying: "We can play at a pace that, at the moment, maybe nobody else can sustain. When we are on our roles, that is good for the morale of the team.
"If you look at the times we have reversed games; Villa, Tottenham, Liverpool, Sunderland and now Milan, you would say there is something special in there.
"I always believed in the spirit and quality of this team. I am sure if we keep going that will come out and the target until the end of the season is to be faithful to that."