Howard ponders future plans
Everton goalkeeper Tim Howard admits he is unsure whether he can continue playing football when his contract expires.
Last Updated: 09/03/12 5:03pm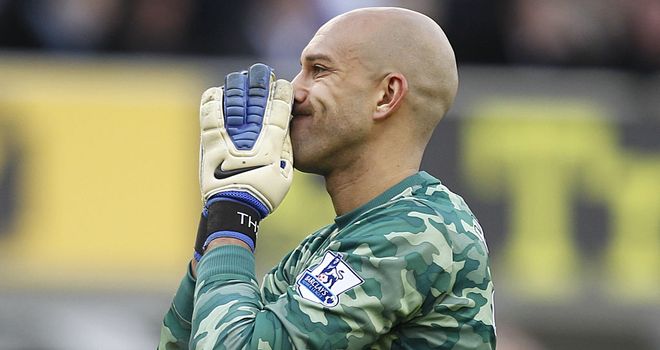 Everton goalkeeper Tim Howard admits he is unsure whether he can continue playing football when he reaches his late thirties.
The 33-year-old signed a new contract this week, keeping him at Goodison Park until 2016.
He will be 37 years old by the time his new deal comes to an end and does not know whether he can carry on beyond that age.
Howard signed for the Toffees from Manchester United in 2007 after a loan spell with the club and has been a permanent fixture of David Moyes' side during that time.
The United States international has played in every Premier League game this season and even scored in a defeat by Bolton in January.
Marker
He said: "Having done this contract it was a real marker for me. When it is finished I will take stock and figure out what I want to do.
"At 33 I find it difficult to figure out how the 40-year-old goalkeepers get out of bed in the morning.
"As long as I am healthy and still have the desire to compete I have to consider continuing to play, but as you get to 38, 39, 40 those things start to diminish, especially physically."
Meanwhile, Howard revealed that he is desperate to have more success before he does call time on his playing career.
The Toffees have not won a major trophy for 17 years but have flirted with Europe in recent seasons.
It would take a miraculous end to the campaign for Everton to qualify for Europe this time around, but the shot-stopper is keen to add more silverware to his cabinet before his playing days are over.
He said: "I hope to be able to get ourselves into Europe, get into more cup finals.
"We want to get back to that stage and put ourselves firmly in the running to win some silverware.
"We are trying to push on. We've made a couple of pretty shrewd signings in January and that has bolstered an injury-hit squad.
"I think we are on the up, performances are good, we have quality players but still have that foundation of toughness."