Fabregas backs Wenger
Cesc Fabregas admits he has shared Arsenal's 'pain' this season but has backed Arsene Wenger to return the club 'where they belong'.
Last Updated: 10/03/12 12:18pm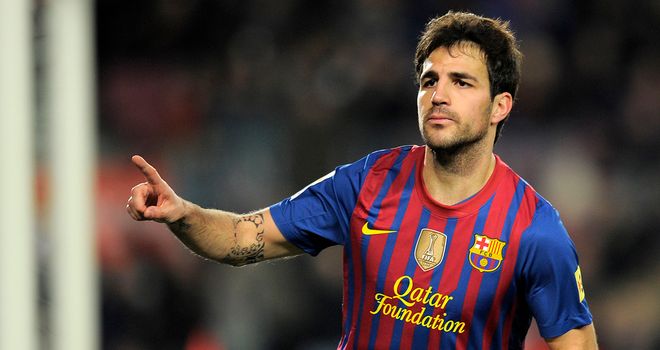 Barcelona midfielder Cesc Fabregas admits he has shared Arsenal's 'pain' during an inconsistent season but has backed manager Arsene Wenger to return the club 'where they belong'.
The 24-year-old spent eight years at the Emirates Stadium - including three as captain - before returning to his boyhood club Barcelona in a £29million deal last summer.
That departure was swiftly followed by the sale of Samir Nasri to Manchester City, with boss Wenger leaving it late before bringing in replacements ahead of the transfer deadline.
After recovering from a stuttering start to the season - that included an 8-2 defeat at Old Trafford - the Gunners stumbled once more at the turn of the year, falling well off the pace in the title race.
They also crashed out of the FA Cup and lost 4-0 to AC Milan in the first leg of their Champions League last 16 clash in the space of a week.
Their brave failure to overcome that deficit in last week's return match at the Emirates means the club will now go seven seasons without a major trophy, a cause of much frustration among the club's supporters.
Frustrations
That 2005 FA Cup triumph over Manchester United in Cardiff was Fabregas' only major honour in an Arsenal shirt and he admits he understands the fans' frustrations.
"It has been painful," the 24-year-old told the Guardian. "It's been painful because I want them to do well as a club and they're my friends.
"Then there is the boss, who I admire so much and who I'm so grateful to.
"I watch virtually every Arsenal game - unless we play at the same time. I've watched 90% of their games this season.
"I don't want to see them losing or being sad or having bad moments.
"Hopefully they will finish the league well."
Anger
Much of the anger and frustration from the supporters has been aimed in the direction of boss Wenger, with many believing he may have taken the club as far as he can after 16 years in charge.
However, Fabregas was quick to leap to the defence of the 62-year-old, insisting he is the man to return Arsenal to the very top.
"The boss is very strong and he believes in the club so much I am sure he will find a means to bring Arsenal back where it belongs," added the Spain international.
"He knows when he is wrong and when he is right. He will find a way for sure.
"I have no doubt because he is a great man."