Distin happy for Jelavic
Sylvain Distin was pleased to see Nikica Jelavic open his Everton account in the win over Tottenham.
Last Updated: 10/03/12 9:13pm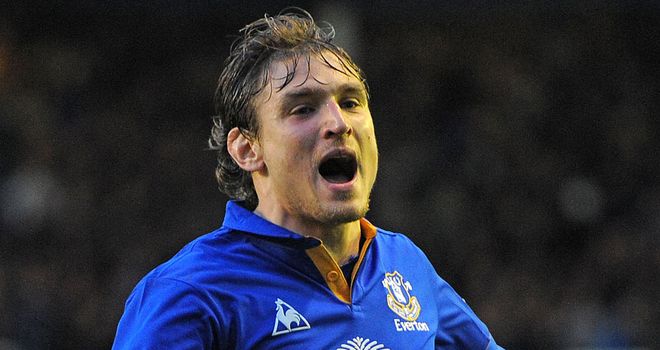 Sylvain Distin was pleased to see Nikica Jelavic open his Everton account after a frustrating start to the Croatian's career in the Premier League.
The former Rangers striker, a £5.5million deadline day signing by David Moyes in January's transfer window, scored his first goal for the Toffees in Saturday's win over Tottenham.
Jelavic was making his Goodison Park debut, having previously made just two substitute appearances away from home due to a combination of injury and an international break.
And having been impressed in training, Distin was happy to see his new team-mate finally get a reward for his hard work.
The centre-back told ESPN of Jelavic: "That is really good for him. He has been waiting for a long time.
"When he came, he had an injury and then it was the international break, so he didn't have the opportunity to show everyone his quality. He has done it today."
Positive
Victory over Tottenham meant Everton went a 10th game without defeat in all competitions and kept momentum ahead of Tuesday's Merseyside derby against Liverpool and next weekend's FA Cup quarter-final versus Sunderland.
It is a second-half-of-the-season flourish from Everton which has become typical during the decade of management of David Moyes, who will celebrate his anniversary next week.
And Leon Osman, who set up Jelavic's goal with an excellent run, has admitted it is a frustrating subject.
But he was delighted to be in form, as he said: "We can put it down to something we do at the start of the season. It is one of those things that happens in football.
"We will try and put our finger on it. We are pleased we are up and running now.
"We have got a good few results behind us now at Goodison Park and hopefully we can keep them going until the end of the season."