Cahill hails Terry partnership
Gary Cahill was delighted to finally begin his partnership with John Terry in Chelsea colours.
Last Updated: 12/03/12 7:32am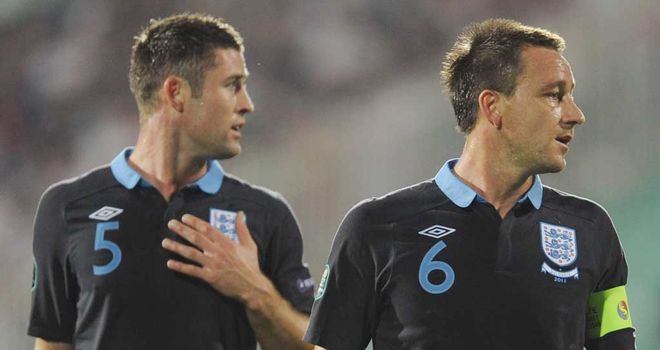 Gary Cahill was delighted to finally begin his partnership with John Terry in Chelsea colours.
The duo have already excelled together with England, but they had not had the chance to forge a partnership at club level until last weekend.
Despite joining the club in January, it was not until Saturday's 1-0 win over Stoke that Cahill and Terry got the chance to unite in Chelsea colours.
And the opportunity came much earlier than expected as Terry returned to the pitch almost a month ahead of schedule following knee surgery last month.
"We looked solid against Stoke and we have a relationship building from playing together for England," he said.
"This was the first time I have played alongside him in a Chelsea shirt. He has composure and it works well."
The Blues defence was much-maligned under Andre Villas-Boas' doomed reign, with David Luiz often made the scapegoat.
But even the Brazilian played his part in a second straight shut-out under Roberto Di Matteo after replacing Branislav Ivanovic at right-back in the second half.
Clean sheet
Cahill said: "Defensively, as a whole, we all played a part.
"Branislav was fantastic going forward in the first half and then Luiz came on in the second half.
"Having John is a real positive for the football club and I thought we defended really well and deserved a clean sheet."
Cahill actually had to bail Terry out on a couple of occasions after his partner slipped facing his own goal, mistakes they cannot afford against goal-happy Napoli.
They also need to improve in front of goal after hitting the woodwork three times against 10-man Stoke, finally making the breakthrough with Didier Drogba's 100th Premier League goal.
Cahill was relieved to be on the same side as the Ivorian, who proved a real tormentor while the defender was at Bolton.
He said: "He is a handful. He had a fantastic free-kick saved and he took his goal really well. He is a fantastic player. I am glad I'm playing with him rather than against him.
"He is strong physically then there is his movement and he looks to get his shots off quickly.
"For the goal, he showed his composure by rounding the keeper and slotting it in. He is a top player and has proved it over the years. I never had a good record against Chelsea - they were a real bogey team.
"When I played for other sides against them, I never did fantastically well. I'm glad that I'm wearing the shirt now."
Cahill barely played under Villas-Boas after joining Chelsea in mid-January but will hope to maintain his ever-present record under Di Matteo.
"The response to him has obviously been good because we have had two good results," he said.
"The new manager has put his new spin on things just by the way he has done his training sessions. It's obviously always going to be different from the previous manager.
"But the personnel at the training ground haven't changed too much and the lads have responded positively.
"It's not a nice moment when a manager loses his job and it was a sad moment for everyone at the football club. It's a cruel game, but you just have to move on."