Doyle - Wolves still believe
Wolves man Kevin Doyle understands the fans' frustration after their latest defeat but insists there is still belief in the Molineux camp.
Last Updated: 12/03/12 9:31am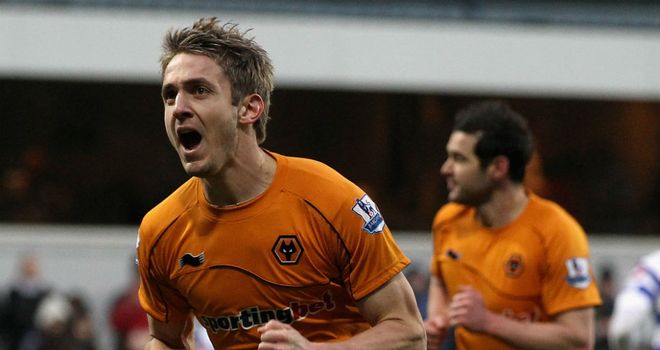 Wolves striker Kevin Doyle understands the fans' frustration after their latest defeat but insists there is still belief in the Molineux camp.
The struggling Midlanders' woes continued after a humiliating 5-0 thumping at Fulham when they were beaten 2-0 at home by fellow relegation candidates Blackburn on Saturday.
That result means Wolves now sit second bottom of the Premier League and a point adrift of safety, while it also leaves interim boss Terry Connor without a win from his first three games in charge following Mick McCarthy's sacking last month.
Frustration
Some Wolves fans made their frustrations known by demonstrating outside Molineux before and after Saturday's match, appearing to direct their anger at club owner Steve Morgan and chief executive Jez Moxey over their handling of the managerial situation.
But while Republic of Ireland international Doyle sympathises with the supporters, he is confident he and his team-mates can turn things around.
"There is belief in the dressing room and the manager gave a very uplifting speech afterwards," he said.
"He said we either fall out with each other now and never win a game again or we come in on Monday morning and work hard, do everything right, be positive, and go out to win next week.
"We can't just throw our toys out of the pram. We can't afford to do that - it is too important.
"There cannot be any moaning or complaining with 10 or 11 games to go. Of course we're frustrated. When you get beaten 5-0 [at Fulham] and then beaten at home, there are going to be demonstrations, people are not going to be happy.
"But I don't think demonstrations are going to do anything. I don't see what they're going to achieve.
"But people have to vent their anger sometimes. They take it out on us from the stands when we're 2-0 down with a minute to go. They are no different to any other fans - and we don't blame them for that.
"We are on a bad run and we have to give them a reason not to be chanting outside the ground.
"Mick McCarthy leaving brings more attention on everything and creates more negativity around the place, but we have to deal with that."
Experience
Doyle believes the experience of beating the drop for the last two years puts Wolves in a strong position to survive.
"We have been in this position before and that's the message everyone's trying to get across," he said. "We're battle-hardened. Ninety per cent of the players have been here before.
"We need to remember what we did last year and the year before to get ourselves out of it."