Messi calls on Pep to stay
Lionel Messi has urged Pep Guardiola to stay on at Barcelona, insisting the coach is more important to the Primera Liga giants than he is.
Last Updated: 12/03/12 5:37pm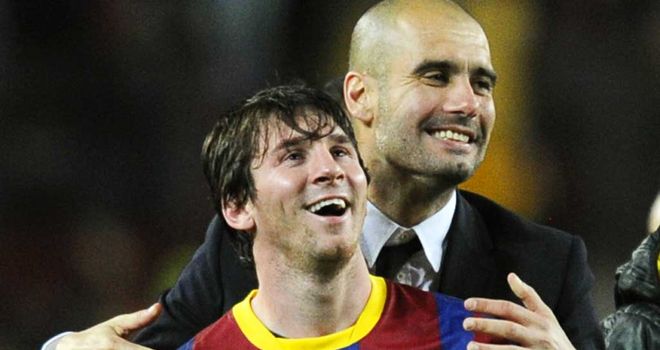 Lionel Messi has urged coach Pep Guardiola to stay on at Barcelona, insisting the Spaniard is more important to the Primera Liga giants than he is.
Guardiola is yet to extend his expiring deal at Camp Nou, having renewed his contract on a year-by-year basis since taking charge of the club in 2008.
The former Barca midfielder has been linked with the managerial post at Chelsea following the sacking of Andre Villas-Boas earlier this month and also mentioned as a possible successor to departed England boss Fabio Capello.
Argentina ace Messi is desperate for Guardiola to stay, with the boss having guided the Catalan club to 13 trophies, including two UEFA Champions League successes and three consecutive La Liga titles.
Messi has flourished under the manager, moving within five goals of Barca's all-time top scorer Cesar Rodriguez, who netted 235, when he scored twice against Racing Santander at the weekend.
And the 24-year-old credits Guardiola for both his and the club's recent success.
More important
"Pep is more important to Barcelona than me," said Messi. "Since he arrived he has changed everything for us. He has won everything there is to win.
"We want him to stay for the good of everyone. It would be very difficult to find another coach and to do what we have achieved with him, to win what he has won and to play the way he has made the team play."
Messi's brace at the weekend stretched his goal tally this season to 50 in all competitions, having netted an astonishing five in the Champions League against Bayer Leverkusen last week.
"I am not trying to be the best in history nor the best player of the moment," he added. "I just play to try and do things well.
"First I play for the team, then for the fans, and then for me. I feel good when everything works out the way I want.
"We always focus on the team, without them none of what I have achieved would have been possible.
"It wasn't my plan to try and reach Cesar's record this season. I am very close, there are plenty of games left, but I'm not thinking of a particular date to reach it."