Hamsik - It's in our hands
Napoli midfielder Marek Hamsik is taking nothing for granted ahead of the return meeting against Chelsea in the Champions League.
Last Updated: 13/03/12 10:10am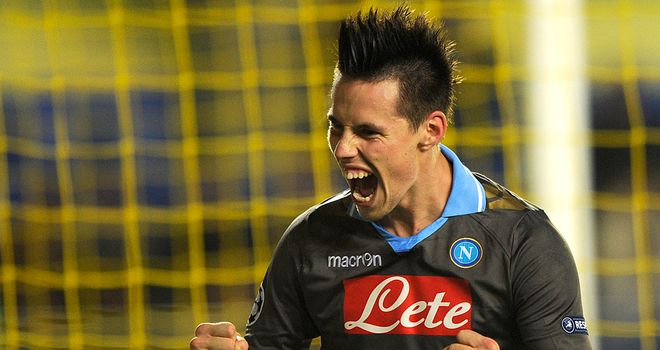 Napoli head into Wednesday's UEFA Champions League game against Chelsea with a two-goal advantage, but Marek Hamsik is not taking anything for granted.
An Ezequiel Lavezzi brace and a goal from Uruguay international Edinson Cavani gives Napoli the advantage heading into the second leg, but a 2-0 win for Chelsea would see the Blues advance into the quarter-finals.
Serie A rivals AC Milan were almost eliminated by English opposition after a heavy defeat to Arsenal last week, and Hamsik is keen to avoid a similar performance.
Hamsik is wary of a rejuvenated Chelsea under new manager Roberto Di Matteo, and believes it is important for his team to score.
"We saw the Arsenal-Milan match and we have to make sure that does not affect us. If we use the same tactic as Milan it would be a disaster," he said.
"Chelsea have had their problems and we need to exploit their weaknesses and doubts. We need to score and if we can do that then I believe we will go through."
Lucky
The 24 year-old feels Chelsea were lucky to lose by only two goals in Italy, but remains confident of about his side's chances of progressing.
He said: "Chelsea were lucky after the game at the San Paolo. We deserved another goal at least. Sometimes if you make changes like Chelsea did it can be a lottery. We're going to Stamford Bridge to enjoy the game and we're confident of getting through."
Hamsik added: "The odds are probably in our favour but it's necessary to keep our composure and let the nerves affect Chelsea. It's 80 per cent in our hands and we must not get caught up in the atmosphere and euphoria."