Krul downplays RVP incident
Tim Krul has played down the exchange of words between him and Robin van Persie at the Emirates Stadium on Monday.
By Subhankar Mondal
Last Updated: 14/03/12 9:48am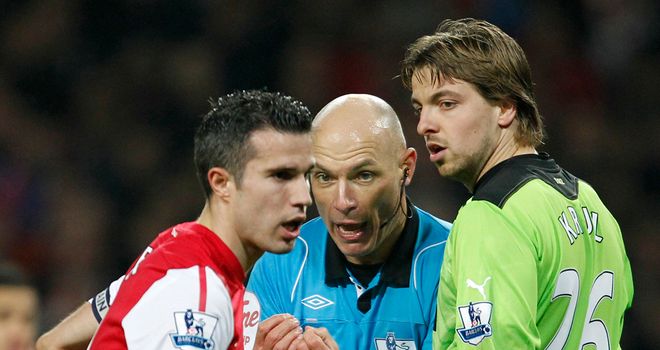 Newcastle United goalkeeper Tim Krul has played down the exchange of words he had with Arsenal forward Robin van Persie during the two sides' Premier League clash on Monday.
The two Dutchmen were involved in row during the closing stages of the Gunners' 2-1 victory at the Emirates Stadium following Thomas Vermaelen's injury-time winner.
Krul and Van Persie clashed with each other on a number of occasions during the game before being entangled in the brawl that required players from either side to pull them apart.
However, the Newcastle custodian was keen to play down the significance of incident.
Disappointed
"I was disappointed with the incident involving Robin," he told the club's official website.
"We are both professional sportsmen and what happens on the pitch stays on the pitch.
"We are playing in arguably the best and toughest league in the world and things like this happen.
"There is only one thing on my mind during a game and that is to win."
Gutierrez blast
Newcastle winger Jonas Gutierrez, though, blasted Van Persie for his behaviour.
"I think Van Persie was wrong," he told The Journal. "There was no need for him to do that - they have won the game, it is finished.
"I can't understand a person like that. I think it is not right. When you feel like that, it is because you are not a good person.
"I don't care about the football, I'm talking about the person. When you have people who do that, it's not right.
"We are all used to getting kicks, it's a sport of contact. But when you have things like that, it is not right. It is not easy to accept.
"He was the only Arsenal player who reacted like that. The others were saying to him, 'Calm down, calm down'. When you do that, the fans go crazy as well, so it's no good for the atmosphere of the sport.
"It didn't help the game - both sets of fans are having a good evening, they're enjoying the game.
"He made a big mistake. I say well done to Tim for staying calm. In a second, you can lose your mind, but we have to stay focused.
"I was pleased with Tim. You have to think of the next game and the rest of the season at that moment. It is no good to have a reaction and get a three-game ban or something like that."