De Gea reveals Fergie plan
David De Gea has revealed that Sir Alex Ferguson has told his Manchester United players what they need to do retain their Premier League crown.
Last Updated: 18/03/12 1:55pm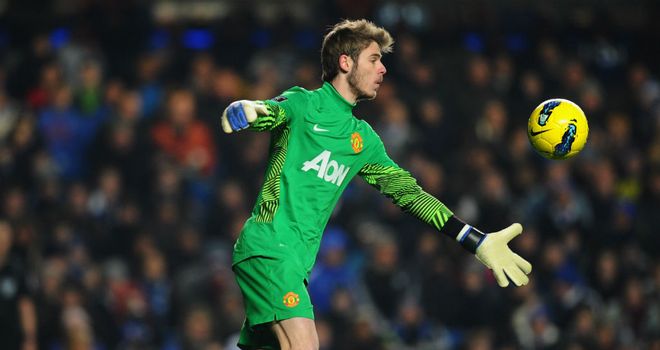 David De Gea has revealed that Sir Alex Ferguson has told his Manchester United players what they need to do retain their Premier League crown.
Ferguson's side went top of the league last weekend and now the Scot wants the reigning champions to make a final push in the remaining ten games of the season.
De Gea says Ferguson wants United to win every one of their last ten games including the derby clash at the Etihad Stadium on April 30th - which is already being described as the title decider.
"Mr Ferguson has insisted just one point could be decisive and we want to keep our destiny in our own hands. Success is down to us and we cannot fail," he told the Sun on Sunday.
"We have spoken in the dressing room and the numbers are clear. We want to win all our matches and try to make sure we clinch the title before the last day."
United can go four points clear if they beat Wolves on Sunday and De Gea insists that is their main target.
"We are not thinking about the derby, only Wolves, because we are playing for the title in every game," he said.
"Each match is like a final, especially against teams fighting to avoid relegation, so Wolves will be difficult.
"It is now our duty to maintain our lead in the Premier League until the end.
"Winning the title will help us forget the bitter taste of defeat in the other competitions so, from this weekend onwards, I want the fans to see the very best version of United."
De Gea admits that United's Europa League exit to Athletic Bilbao was a major blow to them.
"It's a pain that it happened in my first year here. The dressing room was very much affected in Bilbao but it is certain that Athletic played better than us," he said.
"After winning a European title with Atletico Madrid I dreamt of a repeat with United but it just wasn't possible."
Olympics
Meanwhile, De Gea has admitted that it is his intention to play in this summer's Olympics.
"The Olympics is an important competition for me and for the rest of the players. It's such a great competition," he continued.
"I have a real desire to be there and to win it."
After an unimpressive start to his career, the £18million summer signing from Atletico is starting to impress for United and he says he is going from strength to strength.
"Bit by bit my confidence is increasing. I have come to a new league, a new country but overall it has gone well and I think things have gone better and better," he said.
"When that happens you get more self-belief and confidence. English is different from the football in Spain. The league is more physically aggressive and there's more one-on-one contact and maybe the referees let things flow a bit more.
"But I am very happy at United. I love the football in England.
"We have a group of young players who are the key to a strong future for United for many years."