Davies holds Muamba hope
Bolton captain Kevin Davies is hopeful Fabrice Muamba can pull through as he continues to fight for his life following his collapse.
Last Updated: 20/03/12 4:54pm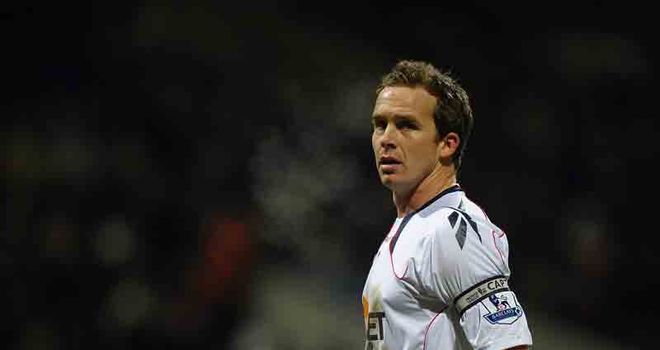 Bolton captain Kevin Davies is hopeful Fabrice Muamba can pull through as the midfielder continues to fight for his life after suffering a cardiac arrest at Tottenham on Saturday.
Muamba remains critically ill in the Heart Attack Centre at The London Chest Hospital after collapsing during the FA Cup quarter-final tie at White Hart Lane.
Davies, along with manager Owen Coyle and chairman Phil Gartside, accompanied the 23-year-old to the hospital following his collapse.
Tragic
The captain has echoed Coyle in hoping he will come through and expressed his thanks to the paramedics and medical staff that were on the scene.
"It's been a difficult time for everyone involved with the club, I think for everyone involved with football really," he told Sky Sports News.
"It's so tragic it could happen to someone like Fab.
"We're hopeful that he can pull through and I just want to say, on behalf of his family and everyone at the club really, a big thank you to everyone who was on the scene; the paramedics and our own medical staff.
"I went down to the hospital with the manager and the physios and the doctors and the amount of people and doctors that were turning up and running around down there trying to get Fab sorted out, it was amazing.
"There's no doubt in my mind if it wasn't down to all those people we wouldn't even be in this situation so we're all thankful to them that they've given Fabrice a bit of hope.
"As you can imagine it's been sleepless nights, with what we saw on the pitch.
"I've been in constant contact with the manager and the doctor, who I've asked to keep me informed so I can let the players and friends and family know what the situation is.
"You're half expecting the phone to ring, with what we saw. But Fabrice is fighting and like I said, we're all holding out and hoping he can pull through.
"I spoke to the manager this morning and the doctor and he remains in critical condition, so there's no change there, but we're hopeful that later on today maybe we'll have a bit more information on that."
Powerless
Davies was one of the players on the pitch when Muamba collapsed and the captain added: "It was not nice. You sort of feel powerless and you can't do anything.
"I think, the same as everyone else, we were probably following the ball and someone said 'Fabrice has gone down' and we sort of looked for him and saw him there and then it all just unfolded from there and really became very serious within a matter of seconds. Within a minute or two we all knew something was seriously wrong.
"He's one of your colleagues, one of your friends. He's a father, he's a son - all those kind of things run through your head and you're powerless to do anything about it."