Kuyt in Reds admission
Dirk Kuyt has admitted he could be forced to consider his future at Liverpool if he does not play more reguarly next season.
Last Updated: 20/03/12 7:19am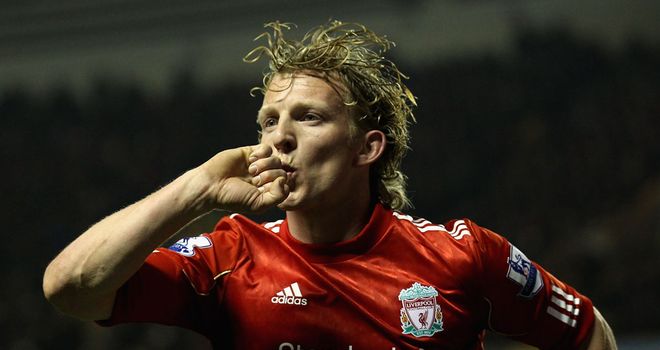 Dirk Kuyt has admitted he could be forced to consider his future at Liverpool if he does not play more reguarly next season.
The Dutchman has struggled to nail down a regular starting place in Kenny Dalglish's first XI with summer signing Jordan Henderson taking his spot on the right-side of midfield.
Kuyt insists he is happy at Anfield and would consider finishing his career at Liverpool, but that he might have to reconsider his options if he finds himself on the sidelines.
"I want to play every game. It is very disappointing when I don't - like the Carling Cup final for instance," Kuyt told the Daily Mirror.
"From my point of view I'm feeling really well physically, I don't think I've ever felt stronger, and I'm ready to play games, I am ready to play every game of the season. For me it is all about trying to convince the manager he needs to pick me more than he does at the moment.
"I can see myself staying at Anfield for the rest of my career, as long as I am satisfied and am entitled to play in each game to get to the level I want to be.
"As long as I play as much as I want to play then I will be happy, but if it gets to the point where I am not playing every game any more, then maybe I will have to make another decision - but I don't think about that at this stage."
Future prospects
Kuyt believes the future looks bright for Liverpool, but he knows they must find consistency if they are to challenge for honours on a regular basis.
"We have a sense that we are a coming force, that we are building something special," added Kuyt. "We have a sense that we can do something next season for sure, but we are still in this season, and we still have a chance.
"We cannot give up on any spot in the Premier League and we are still in the FA Cup, so we have to keep fighting this season to deliver. Future wise, I think we will be okay. I think we have much to look forward to, because there is a sense we can go places with this squad, because there are some players with real talent.
"Yet we know as a club how important the top four is to the future - the finances [connected with Champions League qualification] mean you cannot afford to be out of it too long. That is why we have to keep going, and even if we are some points behind now, we can not give up.
"We have to work now by thinking if we get three points at QPR [on Wednesday night] we get a bit closer, and you never know what's going to happen. I came to Liverpool, one of the biggest clubs in the world, to win trophies. So to not win anything for six years is not something I expected.
"I have been close, I have played some big finals, and now I have got that winners' medal in the Carling Cup, and I am really hungry for success to make up for that lost time. It is great to be going to Wembley for the semi, it is a special place for everyone in football, but that is not enough, we have to aim to win the semi, win the FA Cup and find that bit extra to be higher in the league.
"You can say we have had a maddening inconsistency at times, even if we have been unlucky. Maybe that's because we have a lot of young players, a lot of new players at the club, we have to keep playing like that, but take the chances we are creating, and there were signs against Everton and Stoke we are starting to do that.
"We need to find the consistency, and get the points we deserve and we will be there, and we want to be there as soon as possible. In the dressing room, we are not satisfied with what has happened so far."