Messi breaks Barca record
Lionel Messi has broken Barcelona's all-time scoring record with his 233rd and 234th goals for the La Liga giants.
Last Updated: 21/03/12 8:05am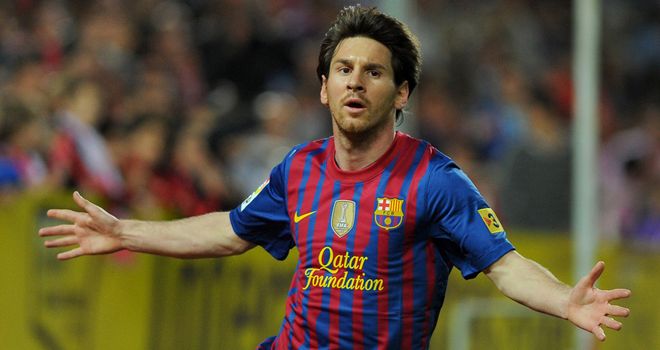 Lionel Messi broke Barcelona's 60-year-old goalscoring record after scoring his eighth hat-trick of the season during Tuesday night's Primera Division match with Granada at Camp Nou.
The 24-year-old three-times World Player of the Year, who now has 54 goals for in all-competitions for club and country this season, broke the mark set by Cesar Rodriguez in the 1940s and 50s in his 314th appearance.
It was thought Rodriguez, who died in 1995 at the age of 74, scored 235 official goals for the Blaugrana but that number has now been revised to 232 following a study by the club and La Vanguardia newspaper.
The Argentine, who is in his eighth season with the club, equalled the mark of 232 official goals when he slotted home Isaac Cuenca's cross in the 17th minute and he secured the record outright in the 68th minute when he nonchalantly lobbed the ball over Granada goalkeeper Julio Cesar.
And Messi bagged his hat-trick and Barcelona's final goal of the night in a 5-3 victory with slick finish from an acute angle.
Messi needed just under eight seasons to beat Rodriguez's milestone and he has now scored an incredible 48 goals in 40 games for the European champions this season.
He has scored in seven straight games, totaling 17 goals and with 34 league goals this season, he took over the league lead, two ahead of Cristiano Ronaldo.
The win against Granada takes Pep Guardiola's side to within five points of leaders Real Madrid who play away at Villarreal on Wednesday evening.