O'Neill praises O'Shea impact
Sunderland manager Martin O'Neill has hailed John O'Shea after watching the defender establish himself as a key performer on Wearside.
Last Updated: 22/03/12 5:02pm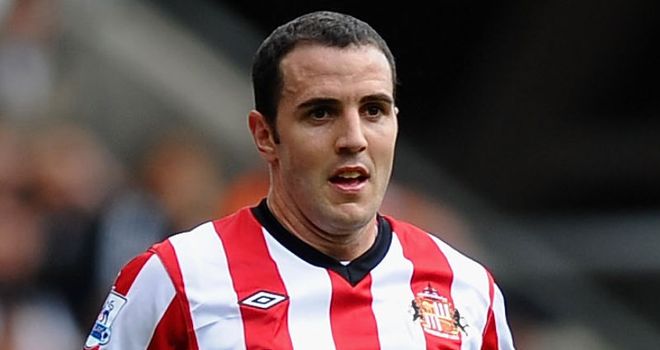 Sunderland manager Martin O'Neill has hailed John O'Shea after watching the defender establish himself as a key performer on Wearside.
The versatile 30-year-old Republic of Ireland defender arrived at the Stadium of Light last summer along with former Manchester United team-mate Wes Brown after then manager Steve Bruce pulled off what he believed was a major coup.
Injuries and an uncertain start to the season by the club as a whole initially hampered the Irishman as he attempted to get to grips with life at the Stadium of Light.
However, in recent months, he has developed into one of the cornerstones of Sunderland's resurgence and O'Neill could hardly be more delighted.
Impression
He said: "He had a couple of niggling injuries at the start when he came here, and was obviously dead keen to make an impression.
"It's very hard for players who have been at one club for a long, long time to come and settle down immediately at another club, particularly when you have been used to winning a lot of games, particularly when every single Saturday, you are playing matches and you are expecting to win a lot of games.
"You arrive and the expectation is not that you are going to win a lot of games or every single week, and the fact is it becomes a personal pressure on you to do really well because you feel that there's definitely an added pressure in that.
"It has taken him a bit of time. We have got some really fine players here, but Manchester United have been winning for years and years and years, so it's good to see.
"He is a great character around here and the players have got enormous respect for him."
O'Shea's central defensive partnership with Michael Turner in the absence of the injured Brown and Titus Bramble has provided the firmest of foundations for Sunderland for much of O'Neill's reign to date.
Indeed, it was no coincidence that he was missing with a hamstring problem when the Black Cats headed for Blackburn on Tuesday evening and returned having lost 2-0, just their fifth defeat in 20 outings in all competitions since the former Celtic and Aston Villa boss took over from Bruce.
Experience
O'Neill will hope O'Shea, who will be a key man for his country at Euro 2012 finals this summer, is back in harness for Saturday's league clash with QPR on Wearside, and if not, Everton's trip to the North-East three days later for an FA Cup sixth-round replay.
Liverpool await the winners in a Wembley semi-final, and while few of the current crop of Sunderland players have much experience of that kind of game, O'Shea, who has a UEFA Champions League winners' medal, five league titles, two League Cups and an FA Cup win to his name, has.
O'Neill said: "Any person who arrives here with a winning mentality is very, very welcome, very welcome indeed."